The Red Sox Walked Off on the Cardinals As Yadier Molina Dropped the Ball
Last night, the Cubs walked off the Reds in the bottom of the ninth inning thanks to the Kris Bryant intimidation factor, the Javy Baez awesomeness factor and, you know, a wild pitch. The win guaranteed – at least – a split in the four-game series against Cincinnati and helped the Cubs maintain a small buffer in first place of the NL Central.
The Cardinals also played a game last night – theirs against the Red Sox in Boston – and it also featured a walk-off in the bottom of the ninth inning … just not one they were thrilled to see.
But I bet you'll love it:
With the Red Sox down by two runs coming into the inning, they scored one to set up a dramatic two out, two on moment for Mookie Betts, who battled to a full count (jeez is this the plot to a movie yet?!). Betts then ripped a liner off the Green Monster.
On the play, Chris Young was able to score easily from second, but Jackie Bradley Jr., fast as he is, had his work cut out for him trying to score from first, even with two outs and a full count head start.
But that's all beside the point, because what happened next was the best type of SCardenfreude ever.
Left fielder Tommy Pham made an excellent barehanded play off the wall and fired the ball into the cutoff man (I believe it was the shortstop Paul DeJong) who immediately turns and fires a one-hop, accurate bullet to Yadier Molina in time.
… except Yadi couldn't hold onto the ball.
Red Sox win, #CardinalsLose, #everybodyshappy. Well, everybody except Yadi Molina, who drooped his head to the ground as the Red Sox celebrated.
And with that loss, the Cardinals now find themselves 2.5 games behind the Cubs and in third place of the NL Central. Their stay atop the NL Central standings lasted about 12 seconds.
Here are the updated standings.
Chicago Cubs (63-56) – FIRST PLACE
Milwaukee Brewers (63-59) – 1.5 GB
St. Louis Cardinals (61-59) – 2.5 GB
Pittsburgh Pirates (58-62) – 5.5 GB
Cincinnati Reds (50-71) – 14.0 GB
And remember, friends. It's not nice to laugh at other's misfortune … unless it's the Cardinals: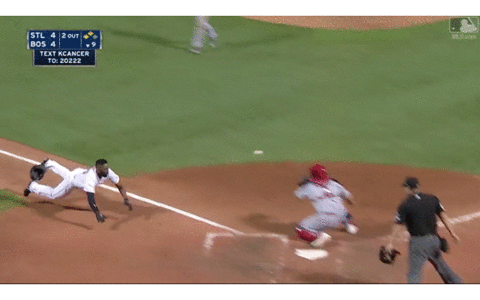 ---