Albert Almora Jr. Collided with the Outfield Wall Last Night, But X-Rays Were Negative
Although the Cubs weren't able to clinch the NL Central last night, I wasn't too upset at the outcome (in fact, I rather enjoyed watching the Cubs battle back stress free), as repeating in the NL Central remains almost certainly a matter of when and not if.
With that said, last night wasn't entirely carefree, particularly because of this: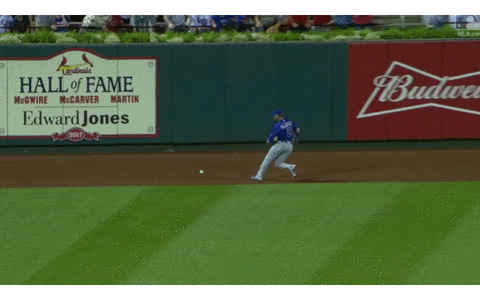 In the bottom of the fifth inning, center fielder Albert Almora Jr. went crashing into the outfield wall, but not in the diving/spectacular-play way he normally does. Instead, as you can see in that gif above, Almora lost his footing as he was chasing down a gapper, and stumbled into a concrete wall with a little bit of padding on top of it.
Here's what he said happened, via Cubs.com: "I tried to cut [the ball] off before it hit the wall and when I went to slide, I noticed I wasn't going to get to it and when I looked up the wall was right on me. There was no slowing down."
Almora laid down in pain for quite a while, simultaneous clutching at what looked like his shoulder, nose, and knee all at once – the shoulder was the primary issue. In the meantime, trainer PJ Mainville and manager Joe Maddon ran out to check on him.
The good news: X-rays showed that his shoulder was neither dislocated nor broken. For now, it's simply being called a bruised shoulder.
Fellow fearless outfielder Jason Heyward later added that it was a scary moment, as he knows as well as anyone that "the wall is undefeated." He complimented Almora on his courageous defense and was glad to learn he was okay.
As to why you should care if Almora is okay, well, that's two-fold. For one, Almora has been hitting better and better against righties lately, which means he may very well be the Cubs center fielder for the next, oh, say, five years. But in the short-term, Almora is also an absolute must-start against all lefties, as his .342/.411/.486 slash line suggests (137 wRC+). If and when the Cubs meet a lefty in the postseason, you can just about guarantee Almora's name will be on the starting lineup card.
On top of that, Almora arguably plays center field better than anybody else on the Cubs (if you wanted to say Heyward, we could have that discussion). If the Cubs have a late lead to protect this October, there's no one you rather have out there than Almora.
With expanded rosters and a magic number of 1, I'd tentatively expect Almora to get plenty of rest over the next couple of days, regardless of what happens in St. Louis. And that's perfectly fine, of course, because when the calendar flips to October, the Cubs will need all hands on deck.
---