Happy 26th Birthday to Kris Bryant, the Finest Third Baseman in Baseball – Let's Enjoy Many Moments
Today is Kris Bryant's birthday, so I thought it would be a nice time to (briefly) discuss his career, and then look back at some of his finer moments as a Chicago Cub.
The Career:
Kris Bryant has played just three seasons in the Major Leagues so far, and he's already a two-time All-Star, 2015 NL Rookie of the Year, 2016 NL MVP, and a World Series Champion.
His 21.6 WAR from 2015-2017, ranks as the second most in all of baseball during that stretch – including pitchers – behind only Mike Trout (who might already be one of the best players of all-time). Bryant currently has the 27th most WAR of Cubs players from all-time, but he'll likely crack the top 20 after this season, and the top 15 in two years time.
But Bryant hasn't only been great since Day 1, he's improved in every season since – dropping his strikeout rate, hitting for more average, getting on base more often … you name it. While he may not be the fastest guy or the best defender out there, he actually rates well above average in both. And the fact that he's played third base, first base, left field, right field, and center field (plus what amounts to second base on some extreme shifts) throughout his very short career just adds to bounty of his greatness.
I can write 1,000 more words on Kris Bryant's general awesomeness, but even that wouldn't be enough. So let's cut things off here and take a quick three-year trip down memory lane.
The First Homer:
This was the first home run of Kris Bryant's career, and I can actually remember exactly where I was when he hit it. If you recall, Bryant had actually gone 20 games without a homer (90 plate appearances!) to start his career, and while he was still an above-average hitter at that point (118 wRC+), it was like, all right, just hit one already.
And he did:
DID THAT HIT THE VIDEO BOARD?
… And then he hit 93 more throughout his short career:
We crammed all 100 of Kris Bryant's home runs (94 regular season, 6 postseason) into an 82-second video. Enjoy!

(@poppenfresh) pic.twitter.com/9kkjI2GLoB

— NBC Sports Chicago (@NBCSChicago) January 4, 2018
Many of those were ABSOLUTE BOMBS:
Scoreboard. pic.twitter.com/0DcD1DFHqH

— MLB (@MLB) April 15, 2017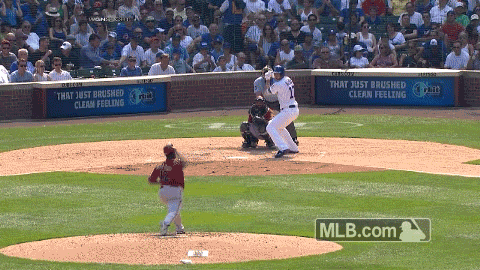 The Game-Winners:
… And while some others weren't necessarily hit as far, they were certainly quite memorable. The Rockies walk-off (Bryant's first), in particular, was one of the greatest Cubs moments of the past three seasons – and that includes the playoff successes:
The Cubs were starting to skid at that point in the season, and had already blown the lead in that game. Bryant, a rookie, saved the day.
And it wasn't his only walk-off that summer:
Bryant also double-dipped the next summer in a game in Los Angeles that had fans chanting 'MVP':
The Home Run Derby:
Although Bryant eventually conceded that he didn't love the demands of the Home Run Derby, watching him hit dingers off his dad, in front of the entire country was a pretty special, exciting moment.
The Moment:
Of course, the all-time G.O.A.T. moment that NONE of us will ever forget came in November of 2016. That's when everything changed for good:
Looking back at that play still gives me chills. There were so many ways it could've gone wrong. The squibbler dribbles under Bryant's glove, or Bryant falls down as he slips, or the throw to first sails over Rizzo's head, any of which allow the tying run to score … but none of that happened. Bryant gloved it cleanly, Rizzo squeezed it in his mitt, and life as a lovable loser, as we knew it, ceased to exist. Kris. Freaking. Bryant.
Shenanigans:
Of course, the fun Bryant provides wasn't just on the field stuff. He's had his fair share of shenanigans over the past few years. Remember this one? "Down on the Farm with Cubs Rookie Kris Bryant!" It's an old one – from when he was first coming up – but a good one:
And then there's all of these:
And to close our trip down memory lane, let's look back at the all-time classic and O.G. Bryzzo Souvenir Company commercial:
Hard not to love this guy. Happy birthday, KB.
---