Kevin Pillar Went All "Angels in the Outfield" To Make This Ridiculous Diving Catch
Kevin Pillar is the "Javy Baez" of center field.
In other words, he may not technically be the best defensive player at his position, but he sure as hell knows how to make a highlight-caliber play … like every other day. Just over a week ago, for one example, Pillar went crashing into the ivy at Wrigley Field and earlier this season, for another, he went straight up airborne to rob Jose Ramirez of extra bases.
But last night was his most impressive catch of the season, in my opinion, because that's when he went full "Angels in the Outfield" and flew, what felt like, a bajillion feet, to make an astonishing catch:
— Baseball is Fun (@flippingbats) August 29, 2017
According to Statcast that was a four-star catch with a 38% catch probability, but frankly, I don't think more than a handful of center fielders would've gotten anywhere near that ball. That was absolutely amazing …
… And definitely reminiscent of this famous scene/catch: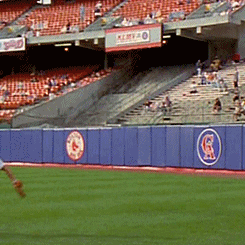 Unbelievable.
---
Latest from Bleacher Nation: