Was That A Three-Run, Walk-Off … Strikeout?!
Over the weekend, the Wisconsin Timber Rattlers, the Class A affiliate of the Milwaukee Brewers, won their game over the Burlington Bees with a five-run ninth inning comeback, capped with one of the most unusual endings to a game I've ever seen.
After bringing the game within two runs, the Timber Rattlers sent Nic Pierre to the plate with two outs and the basses loaded in the bottom of the ninth. Pierre quickly moved to 0-2 and then the madness began.
Watch has Pierre wins (?) the game with the luckiest strikeout in the history of sports:
Here's the walkoff from Friday game….This is amazing. #TRatNation pic.twitter.com/t590uCjfXf

— Timber Rattlers (@TimberRattlers) August 11, 2018
Although first base is occupied, the dropped third strike rule is still in effect if there are two outs. Thus, Pierre's scamper down to first and the catcher's errant throw allowed three runs to score and the game to be tilted to the the Timber Rattlers.
That is seriously one of the wildest endings I've ever seen and not one the Bees will be able to forget any time soon.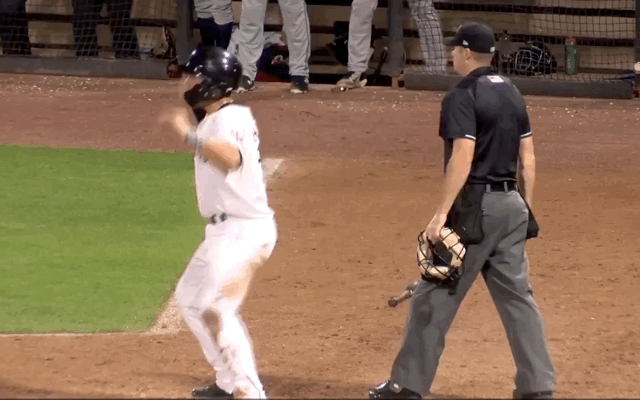 ---
Latest from Bleacher Nation: