The Reverse-Canseco: Left Fielder Catches a Ball … Off His Teammates Head!
If you've been a baseball fan for long enough, you've probably stumbled across this famous gaffe by outfielder Jose Canseco.
Remember it?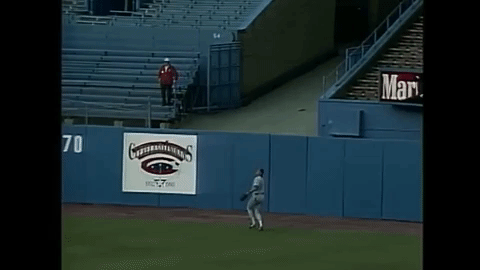 Yeah, that's Canseco letting a ball bounce off his head and over the outfield wall for a home run. But although it was all fun and games back then … wait, no actually it's still hilarious now. That's gotta be the most embarrassing play in professional sports history. It's almost the equivalent of scoring on your own goal in soccer.
In any case, we've seen similar plays since then – Kole Calhoun let a ball bounce off him for a homer earlier this year! – but it's never quite straight off the noggin. For that, we'll head to the KBO, where something amazing just happened.
Check it out:
Talk about a heads up play.

(via @myKBO)https://t.co/RDHXRtCyJy pic.twitter.com/Nm8TOti9xR

— Cut4 (@Cut4) June 5, 2019
Whoa!
The ball bounced DIRECTLY off the shortstop's head, but instead of flying over the fence for a home run, the left fielder had his back and caught it! And the batter cannot believe it either. Absolutely hilarious and kind of amazing.
Even more amazing? I got through this whole post without a "Now that's using your head," type pun. You're welcome.
---
Latest from Bleacher Nation: