Week 9 Video Room: Mitch Trubisky is Starting to Take to Matt Nagy's Coaching
Even though the Bears put up 41 points in their Week 9 win against the Bills, Mitch Trubisky wasn't the guiding light to victory. Instead, it was the defense that did most of the heavy lifting. So much so, I wondered if there would be enough throws to break down for this week's video room session.
The good news is that there was enough fodder for us to break down. The better news was that some of it gives us some insight into how much Trubisky is growing. Unfortunately, there's one throw that sticks in our craw for all the wrong reasons. Let's dive in!
Trubisky's Improvement Stems From Coaching
Watching the Bears lose a bunch of close games during the John Fox era really drove home the point that offensive scheme matters in the NFL. Because when your defense keeps you in it and you play enough close games, it just takes one play on the offensive side of the ball to tilt everything in your favor.
Sunday's game against the Bills played like an old school Bears game where the defense and special teams cleared a path to victory. Chicago's offense didn't have to do much, but it did enough when asked. And good execution of an even better play design is partly to thank.
Here's a breakdown from quarterback whisperer Dan Orlovsky:
Every week @Mtrubisky10 gets better. Still so so young-but he's getting coached well, he's smart, and it's showing on tape for the @ChicagoBears organization. @thekapman @kfishbain @DickersonESPN @BearsBarroom #NFLGamePass #NFLPartner pic.twitter.com/iV81X8SlLv

— Dan Orlovsky (@danorlovsky7) November 6, 2018
This 3rd-and-15 throw to Taylor Gabriel is wonderful all around. It takes Gabriel's skills to run a fast and efficient route, Trubisky's arm talent to put it on the mark, and a quality play design to open up the space. On top of that, we'll notice and commend Trubisky for his vision and anticipatory skills.
Sometimes, it takes everything to bounce the right way for a play to succeed. For the Bears, this play was poetry in motion.
Throw of the Game
If Trubisky is going to be great, he needs to make more big-time throws. I'm not sure they get any bigger than this 3rd-and-long strike over the middle to Trey Burton:
This throw by Mitchell Trubisky to Trey Burton was right on the money. A big 3rd down conversion for the #Bears vs. the #Bills pic.twitter.com/aiEuQvv0Xj

— Chicago Bears Film Room (@bears_film) November 6, 2018
That conversion put the Bears in scoring position and the team took advantage with a Jordan Howard touchdown run a few plays later. This is a really good read by Trubisky and a sharp route by Burton, who found a spot behind linebackers and in front of safeties where he could haul in an accurate pass.
But that wasn't the only on-the-money throw Trubisky made on third down in Week 9:
These are the three Mitch Trubisky 3rd and long completions from yesterday's #Bears win. #DaBears pic.twitter.com/HEN4Qu1mOz

— Bears Barroom (@BearsBarroom) November 5, 2018
Trubisky owns a 93.3 passer rating and 4-to-1 TD-INT ratio on third down this season. That's a slight improvement from the 88.7 rating and 2-to-1 TD-INT ratio he posted as a rookie last year.
Where Trubisky needs to make further improvements is on 3rd-and-long. Last year, Trubisky posted a 102.1 passer rating, completed 75 percent of his passes, and averaged 9.0 yards per attempt on 3rd-and-10+ throws. Statistically, he has taken a step back in this area in 2018. Trubisky's numbers on 3rd-and-10+ are as follows: 7/14, 82 yards, 0 TD, 1 INT, 38.4 passer rating. That's not going to cut it down the stretch, but maybe last Sunday's showing suggests he is about to break out of it.
Re-Visiting the Importance of Making Easy Throws
The simple things are easy to overlook:
Good to see #Trubisky with a easy one … #CHIvsBUF #DaBears 🐻⬇ pic.twitter.com/LUtcicbsLL

— Ben Mc Glohn (@somedudenameben) November 4, 2018
The simplicity of the play call, design, and execution of this play was the cherry on top of a Bears victory sundae.
OK, Let's Talk About That Really Bad INT
We can't have a Trubisky video session without over-analyzing a glaring mistake. And nothing stood out like this interception thrown right to a Bills defender:
The Mitch Trubisky INTpic.twitter.com/HmBRwWZfZm

— Dov Kleiman (@NFL_DovKleiman) November 4, 2018
The footwork looked to be there and Trubisky had an open man in Trey Burton, but he just air-mailed the throw. It was the first time Trubisky has thrown an interception when targeting Burton all season, and it's frustrating because it was preventable. Trubisky owned up to the over-throw in his post-game press conference and sounded like someone who knew he let an opportunity slip away. Live and learn, I guess.
To the Left, to the Left … Look at All These Throws to the Left
There was a time when we were worried about Trubisky's inability to throw left, but it's not really something that's top of mind right now. Especially not after reading this chart: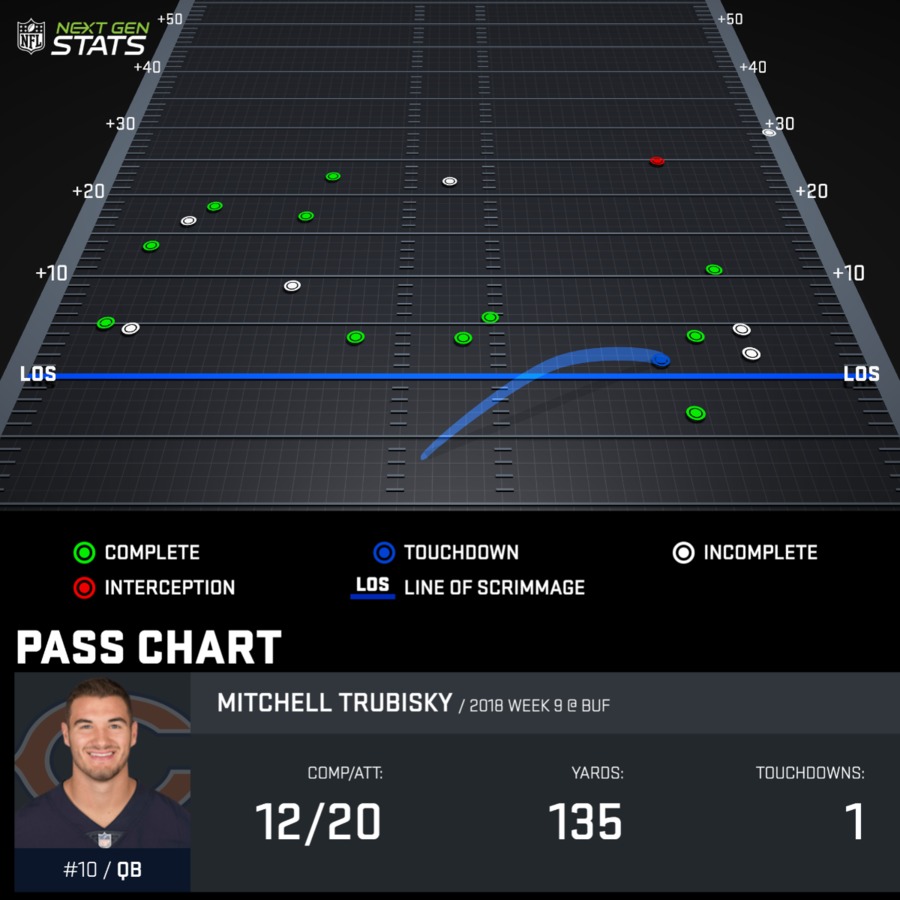 Trubisky was 6/9 for 102 yards and no interceptions when throwing left in Week 9, which adds up to a 104.9 passer rating. It's nice to see Trubisky conquer that demon. Next up for the second-year quarterback, a Lions team that has allowed opposing quarterback to average 8.5 yards per attempt and a 112.5 passer rating. We could be on the look-out for another Trubisky breakout if everything goes as planned.
---