Get That Motor Going Sooner, Bad Bounces, Kane and the Hart, and Other Blackhawks Bullets
I think the lyrics from Fall Out Boy's "A Little Less Sixteen Candles, a Little More "Touch Me"" fit what the Chicago Blackhawks need to figure out as they move forward with the rest of the season.
"I set my clocks early 'cause I know I'm always late"
Ain't that the truth.
•  The Chicago Blackhawks have scored the first goal in 4 of their last 8 games. In the other four contests (when their opponent has scored first), the Blackhawks are 0-4-0, which. Yeah. Yikes. Furthermore, in the first period of games since March 1st, the Blackhawks have scored just nine goals total, while allowing 12 goals in the opening 20 minutes. Besides the San Jose Sharks (5) and Columbus Blue Jackets (3), that's the fewest opening period goals scored in that stretch.
The Blackhawks have been outchanced 47-16 in their last four 1st periods.

Colliton on if he's seen a common theme: "We've got to do a better job of breaking pressure and finding a way to hold possession and generate some offensive zone time."

— Ben Pope (@BenPopeCST) April 2, 2021
•   I don't know if it's something like coffee or kick-starting your pregame routine 20 minutes earlier than usual, but the Blackhawks need to figure out a way to get their motors going right from the opening face-off.
•   I guess the good news is that at least the team is showing resiliency. In last night's 4-3 loss to the Carolina Hurricanes, the Blackhawks came back to tie the game twice, coming back from 2-0 and 3-2 deficits.
Kubalik, very out of breath:

"Those 2nd and 3rd periods, we did a lot of good things. We showed that we can play with them and, in some parts, be even better than them. That's a good sign."

— Ben Pope (@BenPopeCST) April 2, 2021
•   Closing games is just as important as opening them. In the third period of games since March 1st, the Blackhawks have scored a league-worst eight goals. In that same span, they have given up 19 goals in the third period, which is tied for the fifth-most in the league.
•   Bad bounces for both teams was the name of the game last night. Of the seven goals scored, only the game's first goal from Vincent Trocheck did not go in off of a bounce, or redirection, or off the opposing team's stick or skate. It was not one of the prettiest games of hockey you've ever seen.
"It's a bad feeling. Three times you get back in the game. Last minute it's like a bad bounce."–Dominik Kubalik

— Phillip Thompson (@_phil_thompson) April 2, 2021
•   Kubalík had a chance to steal the game from the Hurricanes with just 40 seconds to play with a shot that nearly trickled through James Reimer's pads, but he was able to get enough of it. 12 seconds later, Carolina scores the winner.
•   It was a gut-punch loss that only hurts more knowing it came on a night where the Blackhawks could have gained significant ground in the Central Division playoff chase.
Colliton: "It's tough to take too many positives out of zero points. But we've got to find a way to build on it and have a better start."

— Mark Lazerus (@MarkLazerus) April 2, 2021
•   All three teams in the hunt lost in regulation last night as Chicago lost to Carolina, the Blue Jackets lost to the Lightning, and the Predators lost to the Dallas Stars. Dallas inched closer in the chase, while Nashville holds onto their tiebreaker advantage over the Blackhawks with both teams at 39 points in the standings. They face each other tomorrow in a one-off afternoon matchup. Chicago is still looking for their first win over the Predators this season (0-2-2).
Jeremy Colliton: "A point would have been good. … We've been a resilient team all year. We've got to show our colors come Saturday."

— Mark Lazerus (@MarkLazerus) April 2, 2021
•   The good news for the Blackhawks is that their next ten games all come against the teams that are in the playoff chase, and the Detroit Red Wings, too. Of Chicago's 39 points in the standings so far this season, 26 have come from the four teams in the playoff chase. The problem is that only two of those 26 have come against the Nashville Predators, who are 4-0-0 against the Blackhawks this season.
•   Maybe some good luck will come from a change in the broadcast booth. On Saturday, Blackhawks Player Development coach and Women's US Olympic Team star Kendall Coyne-Schofield will be on the call with Pat Foley.
This Saturday, Eddie Olczyk will be away on National game duties. So who will be joining our broadcast on @NBCSChicago at 2 p.m. you ask?

🥁🥁🥁🥁🥁🥁🥁🥁🥁🥁🥁🥁

🎉 @KendallCoyne Schofield 🎉 pic.twitter.com/CXu6BhYWDg

— Chicago Blackhawks (@NHLBlackhawks) April 2, 2021
•   This isn't Coyne-Schofield's first rodeo either, as she has been on a number of San Jose Sharks broadcasts as well as spot appearances for NBCSN's hockey coverage for both Men's and Women's events. This will be the Oak Lawn native's first broadcast involving the Blackhawks.
•   A player who has been leading the Blackhawks all season that will need to, somehow, find a higher gear to push them over the hump through the rest of the season is Patrick Kane. While still third in the NHL in scoring with 49 points, his point pace has fallen off from the once career-best 1.48 per game pace to now just a ho-hum 1.29 pace. Kane had a five-game point streak snap last night, but he has only found the back of the net twice since scoring his 400th career goal on February 28th. With that, the talks of him being in the MVP race have fallen off as well.
"I don't think anyone's going to touch McDavid this year … at the same time it's nice to hear those things. … Don't think about those things too much. Just try to help the team win."

Patrick Kane on the Hart Trophy (some paraphrasing there).

— John Dietz (@johndietzdh) April 1, 2021
•   While Kane and the Blackhawks could still get into the postseason, his point pace hasn't been what it was earlier this year when he was in closer contention with Connor McDavid. Obviously, I sound like a spoiled child saying the best player on the team needs to be doing MORE, but Kane's the engine that drives this club.
Jeremy Colliton on Hart Trophy buzz around Patrick Kane: "You should hear it every year with Patrick because that's the type of elite player he is in the League. … You've got to make the playoffs to win the Hart, so we want to help him out by taking care of that." #Blackhawks

— Brandon Cain (@brandonmcain) April 1, 2021
•   Maybe the engine needs a tune-up? Or maybe it needs a new part so it can function more efficiently?
•   Maybe my segue skills need work too?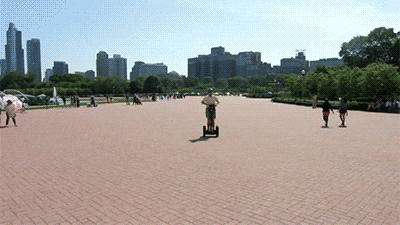 •   Around the league, yesterday the NHL announced that the Vancouver Canucks would have all games postponed through April 6th. Now it appears the team is experiencing a COVID outbreak that could shut the team down for much longer.
DEVELOPING: A growing number of positive COVID-19 cases among the Vancouver Canucks, with a total of eight players and one staff member at this point, according to @DarrenDreger – https://t.co/bLBTx0QZmz pic.twitter.com/QjChGiVUfO

— TSN Hockey (@TSNHockey) April 2, 2021
•   The league has already pushed the end date of the regular season back one day to May 11th to accommodate the Montreal Canadiens, now it looks like the Canucks could throw another wrench into the plans and might be a team that doesn't get to play all 56 of their scheduled games this season.
•   One last thing for today, a little laugh for your Friday, Jeff Skinner really tried his best here:
Jeff Skinner gets a breakaway…. without a stick. pic.twitter.com/YpEQPZ935P

— Shayna (@hayyyshayyy) April 2, 2021
•   A petition to allow kicking the puck into the goal should get circulated after this!
•   That's all for today, enjoy your Friday!
---
Latest from Bleacher Nation: