The Bulls Can Make Trades on Monday(!), League Schedule Set, Better Playoff Odds, and Other Bulls Bullets
SOUND THE ALARM! HIDE YOUR KIDS! HIDE YOUR WIVES! IT'S HERE!
•   The NBA transaction moratorium will officially be lifted tomorrow at 12:00 p.m. ET, according to ESPN's Adrian Wojnarowski. After months and months of waiting, teams will finally be able to trade pieces and negotiate contracts – oh, and they'll have to do all of it while also thinking about Wednesday night's draft. You know that Spongebob GIF from the episode where Spongebob's brain accidentally threw out his name, so a bunch of mini-Spongebobs in his brain are panicking? Here, this one: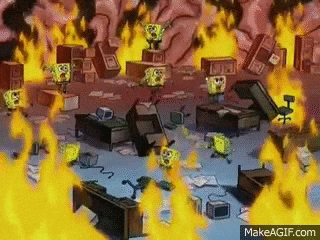 •   That's what I imagine it will be like inside front offices over the next week or so. Meanwhile, for NBA fans, it'll feel more like the movie Project X (no, not the one where Matthew Broderick befriends a chimpanzee … the one with a bunch of high school seniors get wasted and absolutely lose their god damn minds). Here, like this:
•   For me, it will probably feel like a weird mix of both. I couldn't be happier that the NBA – and specifically the Bulls – is back in our lives, but I'm going to have to make an extra pot of coffee each day and kick things into overdrive. And, let's not forget, this week is only the start of a one-month sprint. After the trade window opens and the NBA draft is wrapped up, free agency will start. Then, training camp on December 1st, preseason games from the 11th to 19th, and the start of the season on the 22nd.
Tentative schedule
December 22: Opening night.
All-Star Break (minus an ASG): March 5-10
May 16: Regular season ends
May 17-to-21: Play-in tournament for 7-to-10 seeds.
May 22: First-round playoffs
June 7: Conference semifinals
June 22: Conference Finals
July 8-22: NBA Finals

— Adrian Wojnarowski (@wojespn) November 15, 2020
•   In the midst of all this, teams will also have to think about extensions. According to Bobby Marks, the last day to sign a super-max or rookie-scale extension is December 21st. I know these negotiations may not receive the same interest as trades and free agency, but they can be equally as important. I mean, arguably the league's best player, Giannis Antetukounmpo, will have to decide whether or not he is ready to commit long-term to Milwaukee. If he turns down the super-max deal, the race to sign the Greek Freak is on.
Last day for a player to sign a super max and rookie extension is Dec. 21.

— Bobby Marks (@BobbyMarks42) November 15, 2020
•   On a much lesser scale, the Bulls will have to decide whether or not Lauri Markkanen is part of the future. The Finnisher is up for his rookie-scale extension this offseason, and if he doesn't reach a deal with the new front office, he will hit restricted free agency in 2021. I'm honestly not sure which way the needle points right now when it comes to a potential deal. While all signs point to Arturas Karnisovas and Marc Eversley having a strong interest in Markkanen's potential, it's a tad difficult to see both sides reaching a comfortable agreement. We'll talk more about this sometime over the next week. I have some thoughts.
•   Johnson seems to believe that the top-3 on draft night will go as planned.
Barring trade, top 3 picks are increasingly sounding like Ball-Wiseman-Edwards. The Hornets/Okongwu talk isn't as prevalent as midweek. That leaves plenty of intriguing options for Bulls if they stay at 4. Who's your pick?

— K.C. Johnson (@KCJHoop) November 15, 2020
•   I've definitely heard more and more people say that the top-3 is falling into place, which isn't all that surprising when we consider the timeline. Draft night is right around the corner, and we still know practically nothing about which teams prefer which prospects. Things like this can oftentimes revert to the standard train of thought when so much confusion looms. Still, the chance that things go completely bonkers feels far more likely than in drafts past. All it takes is one move.
•   The Bulls chances of making the playoffs is about to go up. The NBA wants to expand its play-in tournament to a point where it allows the 10th seed in each conference to compete. I know this new team has not declared the playoffs a goal for next season, but if they do not finish in at least the top-10 (major injuries or blow-up style trades aside), that's going to be worrisome. The play-in tournament may not be the bar we want to Bulls to reach, but it's (1) a start, and (2) sounds pretty fun.
The Play-in Tournament still needs to be approved by the Board of Governors, but that is a formality, per sources: No. 7 and No. 8 seeds need to win once to stay in playoffs; No. 9 and No. 10 seeds need to win twice to move up into field. Tentative dates of event: May 17-21.

— Adrian Wojnarowski (@wojespn) November 15, 2020
•   Speaking of the trade moratorium being lifted, the Los Angeles Lakers are already making moves. I think we should expect the Oklahoma City Thunder to be in plenty of trade conversations moving forward. The team is in full rebuild mold, and while they already have a king's ransom of draft pick, it never hurts to add more when you decide to start from scratch.
Schroder-to-the-Lakers is well on course to be completed on Monday, sources tell ESPN. Rival teams in pursuit of the OKC guard have started moving onto new targets. The Lakers will land an impactful, versatile guard in pursuit of the franchise's title defense. https://t.co/KOAcjyIked

— Adrian Wojnarowski (@wojespn) November 15, 2020
•   These pictures make the new City Edition jerseys look a lot cooler, not gonna lie.
Behind the scenes at the 2020-21 City Edition launch shoot.

More: https://t.co/6H66xMlBQa pic.twitter.com/yDGdrduobz

— Chicago Bulls (@chicagobulls) November 15, 2020
---
Latest from Bleacher Nation: