Arturas Karnisovas Calls Markkanen "Essential," Buuuut Actions Speak Louder Than Words
Where is the gif!? Someone give me the gif!?
Ah, there it is!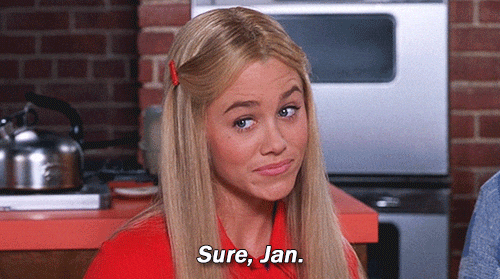 Change "Jan" to "Arturas" and you have my exact reaction when listening to his comments on Lauri Markkanen at his end-of-season press conference today.
The Bulls executive vice president of basketball operations did not provide any specific details on how the organization plans to handle the 23-year-old's restricted free agency this summer, but he did provide another supportive comment that has not fallen in line with his previous actions (emphasis mine).
"I thought Lauri had a good year. I thought he was more efficient. He is a 40 percent 3-point shooting, and shooting comes at a premium in our league. I think Lauri is an essential part of our team, and we hope he is part of what we're building here. I'm looking forward to free agency and talking to his representation."
Look, I get it. Karnisovas isn't going to throw a player under the bus, nor is he going to straight-up shut down any possibility for a future marriage. That's bad for business. At the same time, we've heard this song and dance twice before, and it's ended the same way both times.
"We like Lauri and we would like for him to be part of the organization for a long time," Arturas Karnisovas told the media on December 1st, 2020. "We're going to make every effort to get it [an extension] done."
What happened next? The extension window passed, and Markkanen entered the season betting on himself. In fact, according to NBC Sports Chicago's K.C. Johnson, the Bulls and Markkanen finished discussions $4 million off in the first year of the contract alone. Hmm, that sure doesn't sound like "making every effort" to me. 
Then, when Karnisovas sat down with reporters on March 1st, he said the following on Markkanen's eventual return from injury (h/t NBC Sports Chicago):
"Obviously before he got hurt, he was 19 and shooting 52 percent from the floor and 40 from the 3. I think that's what he can do on a daily basis. We can't wait for him to come back and help this team win games."
I'm not saying Karnisovas is being disingenuous here. Getting any rotation player back from injury is helpful. However, 23 days later, we learned the Bulls were listening to potential suitors for Markkanen, and that turned into the Bulls actively pursuing upgrades for Markkanen one day later. The Finnisher made it through the deadline, but he was moved to the bench on March 28th. So did the Bulls really think he could help them win games?
The point being, it feels like Karnisovas is writing on the wall with an invisible marker. Pretending their interest is real on the surface could potentially help them in sign-and-trade discussions, but if we turn off the lights, we see there is no real future for the big man in Chicago. Maybe I'm wrong. Maybe Karnisovas snatches up Markkanen on an inexpensive deal. Maybe Markkanen is a key part of the bench next season, even though he clearer told reporters he views himself as a starter. Maybe. All I know is the actions speak louder than words, and so far those actions point in the opposite direction.
---
Latest from Bleacher Nation: