Bye Bye LeBron, Major Props to the Suns, Picking and Choosing Vets, and Other Bulls Bullets
Where is the gif? Someone get me the gif!
Ah, there it is!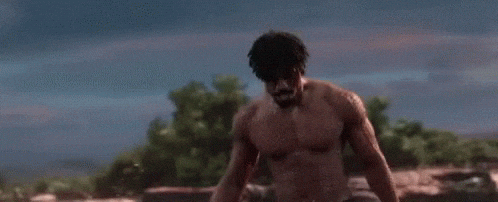 •   For the first time in his career, LeBron James lost a first-round playoff series. The Phoenix Suns took complete care of business at the Staples Center in Game 6 behind a ridiculous 47-point performance from Devin Booker. The 24-year-old walked straight out of a wood-burning stove, through the tunnel, and onto the court Thursday night, scorching the earth from the opening tip with 22 points in the first quarter. The entire Lakers team, on the other hand, walked straight out of a freezer in Antarctica filled with Klondike Bars, scoring a combined 12 points in the 1st quarter. Yes, Anthony Davis may have clocked only 5 minutes due to his lingering groin strain, but make no mistake: The Suns were not handed the series.
•   I've been a defacto Suns appreciator all season long. Part of that probably stems from jealousy. They are the young team anchored by key vets that I would have loved to see the Bulls become by now. The other part of it probably stems from just loving basketball. Not many teams play a more complete brand than the Suns. They finished the regular season with the 3rd-best net rating in the league, and while their stars are a big reason for that, they have some of the most intriguing role players in the NBA (Mikal Bridges and Cameron Johnson are studs). In other words, they don't deserve to be given an asterisk. It's not like they barely snuck by this slightly depleted Lakers team. They beat them at full strength, and then they kicked them while they were down. No matter what, it is an impressive series win.
•   Father time is undefeated, LeBron. While the 4x champ gave his best effort last night on 29 points, 9 rebounds, and 7 assists, I do think this series showed some pretty big fatigue. Rarely do we see James stack double-digit losses, and rarely do we question his aggressiveness. However, in this series, I think many were surprised to see him not consistently bulldoze his way to the rim. The guy shot double-digit three-point attempts in two straight games for the first time since February 2020. He also averaged just 3.8 free-throw attempts, which will be his fewest ever in the playoffs (of course, he also played his fewest playoff games ever in a season … but still). Something just felt a bit off. I don't know if it was the ankle, the supporting cast, the situation, or the age, but something was different.
•   All I do know is this …
Michael Jordan never lost to the Suns in the playoffs. My column:

— jon greenberg (@jon_greenberg) June 4, 2021
•   Look, I could write 1000 words about why James isn't the GOAT, but I'll take the high road. The guy is an all-timer and game recognizing game is always nice to see.
LeBron gifted his jersey to Devin Booker after Game 6 🤝

(via @NBA) pic.twitter.com/cbnwWxq8Uf

— SportsCenter (@SportsCenter) June 4, 2021
•   Honestly … this is crazy lol
This year's Finals won't have either LeBron or Steph for the first time since 2010. pic.twitter.com/afYcBM1jUP

— StatMuse (@statmuse) June 4, 2021
•   Ok, so now we need CP3 to suck it up so much in Round 2 that the Suns don't re-sign him, and the Bulls can grab him on the MLE. Easy peasy.
Chris Paul Reportedly Plans to Turn Down His $44.4M Player Option – Should (Or Rather, Can) the Bulls Get Involved?https://t.co/rMJgA2smRe pic.twitter.com/Kk9QxyJDTI

— Bleacher Nation Bulls (@BN_Bulls) June 3, 2021
•   The Chicago Tribune's Jamal Collier does a great rundown of four key veterans the Bulls front office must debate keeping aboard this season. Truly, I can see a world where Temple, Satoransky, Young, and Theis are all playing elsewhere next season. After all, letting all four walk would be pivotal to opening up the most possible cap space. If I had to guess, however, I would say Thaddeus Young is the one we still see in Chicago past this offseason. While I would 100 percent listen to trade offers, even if his production goes down, he has been a huge help in establishing the organization's new culture.
•   Has anyone told you that Chicago is the best summer city, Dame? Hell of a place to host a playoff series. Something to think about.
https://twitter.com/hoopshype/status/1400701472375988230?s=20
•   I need this on a T-shirt … and a hat … and some underwear.
Dennis Schroder with a last-second quote of the year candidate: "You've got to go through the bullshit to get to the good shit."

— Tim Reynolds (@ByTimReynolds) June 4, 2021
•   Come on, LeBron, you already took one L this summer. Don't take another. #CancelSpaceJam2
"Nah, I think I'm gonna play for the Tune Squad this summer instead of the Olympics."

LeBron had jokes to end his presser 😂 pic.twitter.com/SR7H1fF5cN

— ESPN (@espn) June 4, 2021
---
Latest from Bleacher Nation: