Ben Sheets is Obviously Broken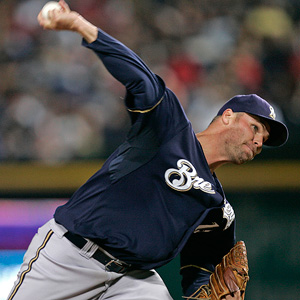 For the Cubs' primary rival in the NL Central (probably?), pitcher Ben Sheets' rejection of the Brewers' offer of arbitration may have been the best thing to happen to them this offseason. Had he accepted, he probably would have received something close to the $12 million he got last year from the Brewers (a player's salary can only decrease by a maximum of 20% in arbitration, and that basically never happens).
As things stand, he isn't going to get close to that.
Lingering concerns over the status of Ben Sheets' right elbow could ultimately prevent the Texas Rangers from signing the free-agent All-Star pitcher to an incentive-laden contract.

The Rangers have examined Sheets' medical reports, but sources said the club wants the most recent information on his torn flexor tendon. Star Telegram.
The Rangers are the only team to have shown serious interest in the injury-plagued ace, and now they are hesitant to give him even an incentive-laden deal? Yikes.
That means that Ben Sheets is seriously, seriously damaged, and the Brewers are incredibly lucky that he did not accept their offer of arbitration. Of course, perhaps adding to Sheets' difficult in finding suitors is his "Type A" free agent status – which means that because the Brewers offered him arbitration, if he's signed by another team, it's going to cost a first rounder.
But I'll stick with the broken thing.
---
Latest from Bleacher Nation: