Rich Hill Thinks He's Really, Really Awesome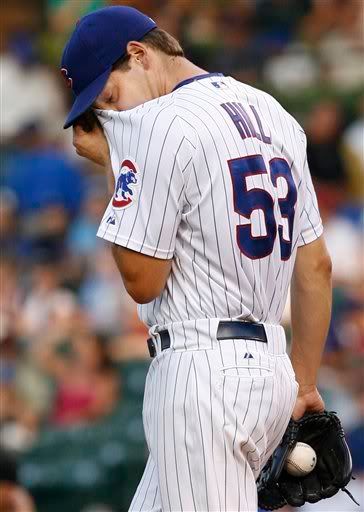 When the Cubs traded broken/mentally-defective pitcher Rich Hill to the Orioles earlier this year for a player to be named later, most fans figured we were just getting rid of a guy who was out of options and would never again contribute meaningfully at the major league level.
Well, apparently we were wrong. Dead wrong.
"People get the misconception that this has been going on for a long time when it's like, no, a year ago, I was one of the top five pitchers in the National League," Hill said.
That's right. According to Rich Hill, he was a top five pitcher in the National League in 2007.
Let's look into that claim, after the jump.
So Rich says he was top five in the National League. Well…
He was 18th in the NL in ERA, and 24th in innings pitched. So I guess he didn't mean fifth best in terms of actual contribution to the team. No dice there, Rich.
Perhaps he meant WHIP (walks and hits per inning pitched)? Nope. Only 8th best.
ERA+? Couldn't be, given that Hill ended up behind teammate Ted Lilly, and effectively tied with teammates Sean Marshall and Carlos Zambrano. Maybe he meant fifth best on the Cubs?
Oh, wait. Wait. Now I remember. Rich is a strikeout guy. He probably accidentally omitted all the other, you know, "better" metrics of pitching success in favor of just one indicator: strikeouts per 9 innings.
Oops. Nope. He wasn't even in the top ten among starters in the NL in 2007.
Ok, found it. In 2007, Rich Hill was fifth in the National League in TOTAL strikeouts for the season… ahead of guys like Carlos Zambrano, Cole Hamels, Tim Lincecum, and Roy Oswalt. Oh, and just one spot ahead of who Rich Hill would call the 6th best pitcher in the National League: John Maine. Clearly, total strikeouts is a great way to evaluate your abilities in relation to other starters.
For what it's worth, I don't wish ill upon Rich Hill. He always seemed like a nice enough guy; just a little shaky between the ears. But until he actually shows he can keep his ERA under 6 in the Venezuelan Winter League, he probably shouldn't be talking himself up like he's the next Johan Santana.
Here's hoping he becomes one of the five best pitchers in the American League. We now know he's already one of the five most humble.
---
Latest from Bleacher Nation: