Cubs Scapegoat, Fire Gerald Perry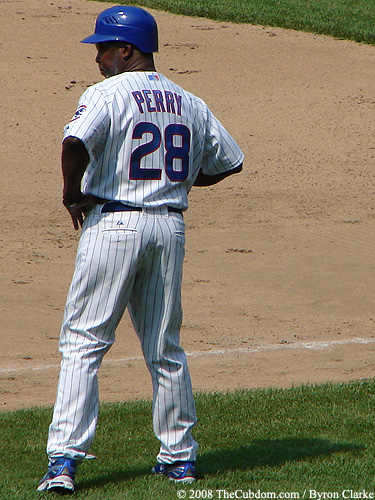 The Chicago Cubs' offensive woes were apparently all the fault of hitting coach Gerald Perry. That's why they dumped him.
As Cub players were taking batting practice Sunday morning, hitting coach Gerald Perry was called off the field and fired. He will be replaced by Von Joshua, the Triple A hitting coach at Iowa.

"Obviously, we've been struggling for a long time," said general manager Jim Hendry, who personally fired Perry. "I'm not one to dump all the blame on my coaches. But I think sometimes you need a different voice. Hardball.
Strange that Perry performed so terribly this year, given that he was the hitting coach of last year's club – one of the best hitting teams in baseball. Still, my sarcasm belies my true beliefs: sometimes these moves, though seemingly unfair, are necessary. The Cubs' lineup is loaded with talent, and it isn't hitting. Thus, goodbye hitting coach.
"Von has had a lot of success with our guys on the way up. We're really, really struggling offensively for reasons way beyond Aramis (Ramirez) being gone. Every day we have guys in the lineup who have played in the All-Star game. For whatever reason, they're just not performing anywhere close to the level they've performed through their careers."
Hopefully new (old) blood can inject some life into the listless offense. I'm very glad to see someone in the Cubs organization acknowledging that the return of Aramis Ramirez is not going to be the cure-all for this Cubs offense.
Von Joshua was coaching up one of the best hitting minor league clubs in baseball, and we'll go ahead and attribute their success to his coaching, and not to having several 26, 27 year old AAAA types in the lineup.
---
Latest from Bleacher Nation: