The Chicago Cubs Are Considering Pedro Martinez Because They're Worried About Rich Harden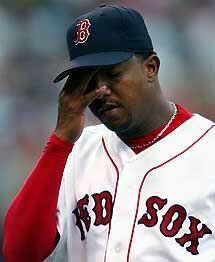 The strange, strange Cubs rumor that won't die. The Chicago Cubs are still interested in signing Pedro Martinez to join the bullpen or maybe even the rotation. And apparently it's all Rich Harden's fault.
Watching right-handed pitcher Rich Harden struggle with his command has made the team's management group a little nervous as of late. Harden has given up 11 home runs already this season, matching his 2008 total with Oakland and the Cubs combined. If Harden continues to waver from start to start, the need for another starter or a bullpen pitcher will become more and more a reality. ESPN Chicago.
Even if Rich Harden's torn shoulder explodes into a shoulder supernova, that doesn't mean the Cubs have to sign anyone, let alone a complete flyer like Pedro Martinez. They have a guy who would be a 3rd or 4th starter for most teams already in the pen in Sean Marshall. Jeff Samardzija has been starting at AAA Iowa, and so had new bullpen call-up Kevin Hart.
There are other options for this team than over-spending on a broken 39-year old. Oh, and that's all assuming Rich Harden is done – which he's, like, not.
The Cubs have had a scout in the Dominican Republic watch a couple of Pedro's workouts. The quality of the individual is almost as important to the team as his stuff. Martinez at his best now is a five-innings-and-fly guy. Throwing at 83 or 84 miles an hour with his variety of off-speed pitches might get Pedro by a majority of big league hitters for a couple of months.

One theory would have him go to the bullpen and set up or close if the back end of the Cubs' staff begins to falter in the dog days of the season. Martinez is smart enough to be able to reinvent himself as a reliever and outfox hitters for one or two innings. The young Latin American pitchers on the staff would benefit from having an outstanding person and a future Hall of Famer as a mentor. Martinez, if healthy, might be a linchpin for a contender like the Cubs in their second-half pursuit of a pennant.
Wow. How many garbage, bs reasons for a move can you pack into two paragraphs?
Pedro is now a quality individual? And that's supposed to mean something?
Throwing 83 mph and then some off-speed stuff (so, what, 70 mph? how about just rolling it up there?) is enough to get by for a couple months?
Pedro is smart enough to "outfox" hitters for an inning or two?
Young Latin pitchers could benefit from Pedro's presence (a guy who once beat up Don Zimmer)?
If healthy, he could be a linchpin?
Good Lord. I hope these ideas are coming from Bruce Levine, himself, and aren't being floated to him by anyone within 1,000 feet of the Cubs front office.
---
Latest from Bleacher Nation: