Oh Snap – I Think Reed Johnson Just Called Out a Couple Teammates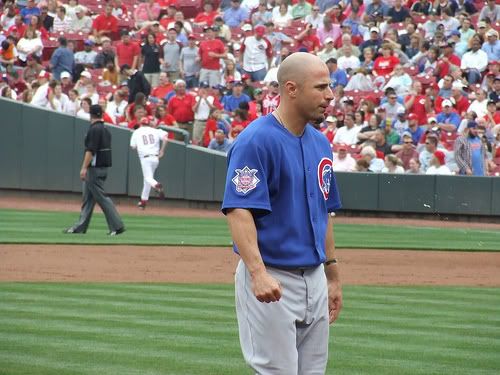 Now, I don't want to read too much into Reed Johnson's recent comments while on his rehab stint in Peoria about the Cubs' offensive struggles. And I also don't want to cast Reed Johnson in a bad light, because I think Reed Johnson is awesome.
And if I'm to understand what he's saying correctly, it sounds like something that needed to be said.
"You get in a situation where there are some guys that aren't having really good offensive years, and you start looking up at your numbers on the scoreboard," Johnson said.
Nothing too surprising there.
"But if we can overtake the Brewers or St. Louis and move into first place, then guys will be focused on what we should have been focused on the whole time, which was being in first place," Johnson continued. "And once you focus on that, you don't think about your numbers anymore."
Hmm. Is Johnson saying there are some Cubs who are more focused on their own numbers than on winning?
"Sometimes guys lose sight and they think it's about having a good personal year, but it's about winning ballgames. And if you concentrate on doing that, your numbers are going to be good at the end of the year."
Ok. Wow. Yes. That's exactly what he's saying. And it doesn't take a genius to figure out which teammates he's talking about (*cough* Soriano, *cough* Bradley). It feels like an ironic truth to point out that the guys with the worst individual numbers are the guys who are solely focused on those numbers.
I say good for Reed Johnson, who is the consummate teammate, focused on the collective rather than the individual.
If he is in fact talking about Soriano and Bradley, one question does spring to mind: why are those guys so jacked up on their numbers? Soriano is signed through 3045 at $18 million per, and Milton Bradley has another 2 years and $20 million coming his way. Neither is a future Hall of Famer (maybe if Soriano somehow magically becomes a 40/40 threat again). So why are they so obsessed with their numbers?
The logical conclusion is that they are obsessed with their own numbers for the right reasons: because they want to play well for the team, and by extension, for the fans. With Bradley, in particular, it's fairly easy to see that – every quote he gives is dripping with desperation to please.
So maybe Johnson's statements aren't quite so snap-worthy after all. Maybe he's just saying that Soriano and Bradley need to chill-ax, and stop trying so hard to beef up their baseball card stats. If they focus on the collective, those numbers will come. And if they don't, who cares: the fans and team will love you if the team is winning.
---
Latest from Bleacher Nation: