No Trades Are Currently in the Works for the Cubs, but That Could Change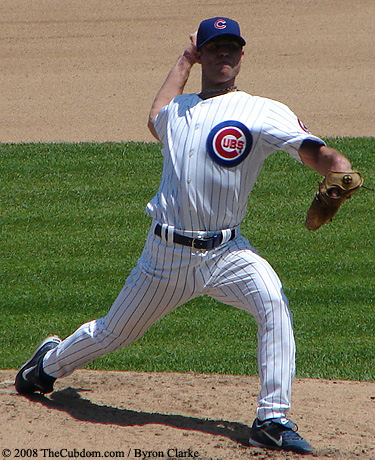 Despite the recent waiver claims of pitchers Rich Harden and Aaron Heilman, the Chicago Cubs say they aren't currently pursuing trades with the claiming teams.
In fact, they haven't even yet been contacted by those claiming teams about a trade.
It's possible that the claims were merely "blocks" – the waiver system allows teams with worse records to get the first crack at claiming a player. If you were the Giants, for example, would you want the Rockies or Dodgers to get a chance to claim Rich Harden? Surely not. So you claim him, knowing that you don't want to trade for him, but also knowing that if the Cubs say fine, you want him, here he is, the contract you'd have to take is negligible.
It's also possible that this is merely the public face of the Cubs. It's difficult to admit, after spending some $140 million on payroll, that the season ended in mid-August. But the nine-game deficit in the Central is all but insurmountable at this point, and there are far too many teams ahead of the Cubs in the Wild Card race for that to be a viable alternative. The prudent move is to trade the players the Cubs can, assuming those players aren't coming back next year, and assuming that they wouldn't net more in draft pick compensation following an offer of arbitration.
Lastly, it's worth pointing out that the reports of Heilman and Harden being claimed do not preclude the possibility that other Cubs were placed on waivers and were either claimed, or cleared waivers, and can thus be traded freely. For example, reliever John Grabow is unlikely to return to the Cubs next year on a multi-year deal, and he would be a risky/expensive arbitration offer. Therefore, he seems like a prime target to be traded.
---
Latest from Bleacher Nation: