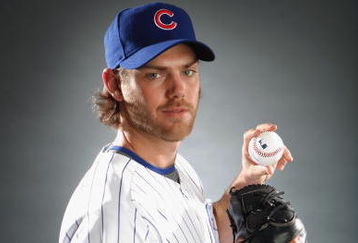 Neal Cotts has been something of an enigma as a Major League reliever. At times, dominant against everyone; at times, he couldn't even get lefties out. And then midseason this year, he went down for good – Tommy John surgery.
So now he's in the long rehab process, hoping to come back with the Cubs next year.
Dr. Tim Kremchek, the Cincinnati Reds' orthopedic specialist, did the procedure, and Cotts then packed up his family, which includes son Madden, for Arizona. Three days a week, he would do arm exercises at a Phoenix area rehab facility, and three days a week, he worked out at the Cubs' complex. This week, he switched to five days a week, four-to-five hours a day at the team complex, working with athletic trainer Chuck Baughman and conditioning coach Scott Weberg. Cotts will keep that schedule up until Spring Training.

Before, he focused solely on his arm rehab. Now, Cotts has added cardio work, weight lifting, everything. It's a lot more intense.

"I've never been through [surgery] so it's kind of experimental in terms of how I feel," Cotts said, "but there's no soreness or anything."

He's done his research, and checked with other pitchers who've had Tommy John. Cotts expects to be pitching in 2010.

"I've talked to many guys," he said. "I saw Billy Wagner came back this year in 10 months and he looked pretty good. I guess maybe your control and consistency takes some time to come back. I think your arm strength comes back earlier, from what I've gathered." cubs.com.
Cotts is arbitration eligible, and it seems unlikely that the Cubs will tender him a contract, given the uncertainty in his future and the strictures of the arbitration process. Cotts made $1.1 million last year, and arbitration only tolerates a decrease of 10% in salary for the following year.
Thus, Cotts will probably be looking for a minor league deal, and if he truly wants to stay with the Cubs, it's hard to imagine they won't give it to him.
---
Latest from Bleacher Nation: