Tom Ricketts Hearts Jim Hendry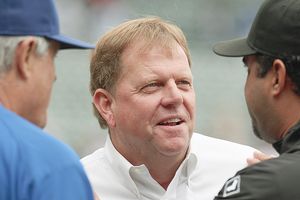 General Manager Jim Hendry has presided over an unprecedented – in modern times – era of success for the Chicago Cubs. So you'd think that fans would be satisfied, and would be looking forward to many years of Hendry in charge.
Not so.
Hendry's success has coincided with an unprecedented shift in Cubs' spending habits, seeing the team rise from middle-of-the-pack spending team to a consistently top-five payroll. Success, therefore, is expected. And lately, it simply hasn't happened. Fortunately for Hendry, new owner Tom Ricketts gave Hendry a vote of confidence yesterday at the Cubs convention.
"We really believe Jim has done a terrific job," Cubs chairman Tom Ricketts said during the new owners' first Q-and-A with fans since their purchase of the team was finalized less than three months ago.

Hendry's status has been the subject of continued speculation since the sale, including suggestions his job might depend on the team's performance in 2010. He's signed through 2012.

"I think what a lot of people don't see is the tremendous amount of progress that's been made in the organization the past few years," Ricketts said. "Jim has built an incredible scouting organization. He's brought in some of the best coaches in baseball. It's easy to second-guess free-agent decisions, but the fact is, from an organizational standpoint, the team is heading in the right direction, and you're going to see the fruits of that in the next few years." CHICAGO SUN-TIMES.
Of course, what else could Ricketts say? "Yes, Jim is on the hot seat to field a winner this year. Sure, he's burdened by some brutal and backloaded contracts, but those were of his own doing. Either he wins this year, or he's out."
No, he wasn't going to say that. But I can: if the Cubs don't, at a minimum, make the playoffs this year, the calls for Hendry's job will be too strong for Ricketts to resist.
---
Latest from Bleacher Nation: