The Cubs and Adam Kennedy? Wha?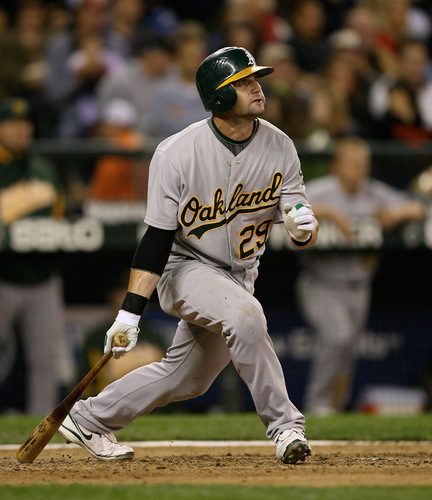 The Chicago Cubs are widely known to be looking for a reserve outfielder and a right-handed reliever. And that's it. Right?
The representative for free agent Adam Kennedy said he remains in talks with three teams about the infielder.

Two clubs are interested in Kennedy as their everyday second baseman, Paul Cohen said. Another has interest in Kennedy as a super-utility player.

"We have narrowed it down to three teams," Cohen said.

Cohen wouldn't address specific clubs, but the Cubs and Nationals are known to be looking for a second baseman. FOX Sports.
Umm. What?
If the Cubs are looking for a second baseman, that fact is "known" by, well, no one. The Cubs have repeatedly said they're pleased with a Jeff Baker – Mike Fontenot platoon at second. Even if the Cubs were looking for a second baseman, it's hard to imagine anyone – yes, even Jim Hendry – believe Adam Kennedy was an upgrade over the current tandem.
Kennedy, 34, had his best season in seven years last year in Oakland (ok, so he definitely fits the Hendry free agent mold), but even it wasn't spectacular: he hit .289 and put up a .758 OPS. The preceding two years, he failed to even eclipse the .700 mark. His career line is a yawn-inspiring .277/.330/.391.
Even if the Cubs were merely looking at him as a reserve, that would make little sense. Ignoring the fact that the Cubs will have only five bench spots, and ignoring the fact that Jeff Baker, Mike Fontenot and Andres Blanco are virtual locks to be a part of the team come Opening Day, Kennedy isn't much of a reserve. Before last season, he'd played, for all intents and purposes, exclusively at second base in his career. Last year, he split time at third base – where he was bad.
Let's hope this is a rumor completely bereft of legs.
---
Latest from Bleacher Nation: