Andrew Cashner Could Wind Up the Cubs Fifth Starter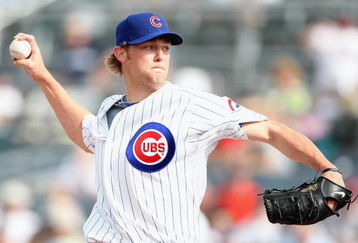 At the outset of the 2010 season, the Chicago Cubs will have two holes to fill in their rotation – those left by Ted Lilly, who will be recovering from shoulder surgery, and Rich Harden, who will probably also be recovering from shoulder problems, but will be doing so in Texas. The Cubs are expected to fill the slots internally, with the primary candidates being Sean Marshall, Tom Gorzelanny, Jeff Samardzija, and Carlos Silva.
But there is another possibility: the Cubs' 2008 first round pick, Andrew Cashner.
"I need to have a good spring training, and whether I make the team or not, I still can make a good impression for later on down the road," Cashner said. "I have a chance at the rotation and a chance at the bullpen, so I have to pitch good and let (the Cubs' organization) do the worrying."

Cashner was selected by the Cubs 19th overall in the 2008 draft. Since then, he has worked his way up through the Minor Leagues quickly, posting a 2.60 earned run average in 24 games played in 2009 in both the A and AA levels.

Right now, Cashner spends his off-season days in Tomball, Texas, near his hometown of Conroe, working out with former Horned Frogs-turned-professionals, brothers Chad and Royce Huffman. With some hard work, Cashner said he has a good chance to get his shot at the big show sometime this season, if not at the beginning.

"I've just got to make the team first," Cashner said with a chuckle, bringing himself back to the present. "Even if I don't make it, guys get hurt later on in the year, and I think I'd have a good chance later in the season, but I'm going to give it my best shot. I just want to help the team win and help them get to the World Series."

In his time at TCU, Cashner was utilized out of the bullpen as a closer, shutting down opposing offenses with a powerful fastball. However, at the Major Leagues level, Cashner said he would like to see batters from the other side of the game and gain valuable lessons from the four starters the Cubs already have slotted for starting roles.

"I think being in (the Cubs') starting rotation, that would be awesome," Cashner said. "There's some great guys to learn from. I mean you've got (Carlos) Zambrano, (Ryan) Dempster, (Ted) Lilly and (Randy) Wells up there right now. There are guys that have been there for a while and can really help you out a lot." TCU Daily Skiff.
Manager Lou Piniella mentioned at the Cubs Convention last month that Cashner would be given a chance to win the fifth starter spot. Cashner was brilliant last year in his first full professional season, but because he was a reliever in college, the Cubs had him on a pretty serious pitch count. It seems highly unlikely that he would be ready to not only go deep enough into Major League games as would be necessary, but also to go the full season.
Still, he'll have a shot, and he's certainly got the stuff. It's more likely that Cashner makes his way up to the big club via the bullpen in the second half of the season, not unlike Jeff Samardzija did two years ago.
---
Latest from Bleacher Nation: