Bud Selig is Apparently an Arizona Legislator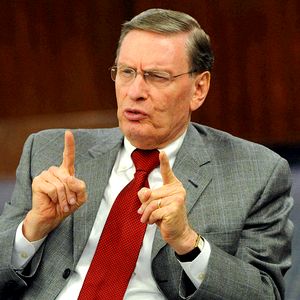 Major League Baseball Commissioner Bud Selig is not a popular man in too many circles, and he's likely to remain that way with Chicago Cubs fans.
The Chicago Cubs, seeking to work out an agreement with the State of Arizona and the city of Mesa to preserve that city as their Spring Training destination for the foreseeable future, have remained neutral while the city and State work out funding plans for facilities that will keep the Cubs around. The most popular plan among legislators was a surcharge on all Cactus League tickets – the thinking being that the Cubs' presence is good for all of the teams in the League (you'll note that the attendance record for virtually every team in the League was set when the Cubs came to visit). Well, Mr. Selig says that ain't going to happen on his watch.
Speaking to reporters at HoHoKam Park on Saturday, Selig said Major League Baseball has taken over the negotiations with Arizona lawmakers over the proposed ticket surcharge for Cactus League games.

"If everyone will stay out of the way, we'll get it done," Selig said, adding that MLB will "find the right economic solution that we can live with and the Cubs can live with and everybody else can live with, and it's doable from a public sector standpoint."

The Cubs were the only team in favor of the tax, which would've helped fund their new spring training complex, while the 14 other teams that play in the league were against it. A $1 rental car tax was also eliminated from the House bill two weeks ago, at the behest of the car rental industry.

"We've taken that process over," Selig said. "It got a little bit out of hand here, and it was a little bit unfortunate, but I was talking to Cubs people this morning, and talking to (MLB administrator) John McHale, who is handling it for me, and we're just working towards a solution. There has to be a solution… We have stepped in and we're going to stay in until we get a deal done." Chicago Breaking Sports.
In what universe does Bud Selig have the authority to inject himself into the decisions of the State legislature of Arizona? If they want to keep the Cubs around, they can choose how they'd like to accomplish it. And if the other teams don't like it, they can leave – surely this is a calculation the State has made (and if they actually thought the other teams might leave, they wouldn't do it).
But of course, Selig does have the authority – in the form of tremendous influence, which he will exert with regularity to get his way. If he wants to remain popular with the other members of the Cactus League, he'll continue his charge to ensure that the "Cubs tax" is DOA.
---
Latest from Bleacher Nation: