Is Jim Hendry's Job Riding on 2010?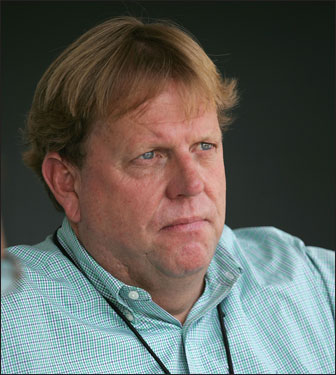 It's been a mediocre offseason for the Chicago Cubs, which could portend ominous things for a team that underperformed in 2009. And if they struggle again this year, the cries for General Manager Jim Hendry's job will start to migrate over from the fans at the margins to the fans in the mainstream.
But would new owner Tom Ricketts be that quick with the dispatch trigger? He was recently asked just that.
Q: There's a perception that front office jobs, including general manager Jim Hendry's, could ride on the outcome of this season. Is that a fair perception?

TR: First of all, it's been a great six months to start to get to know these guys better in the front office. As I've said many times, it's been the most pleasant surprise that we've had, how good the people are on the baseball side, how well the organization appears to be running and developing players and getting toward putting a great team on the field. And on the business side, too, the dedication and the commitment of the people there and what they've been able to accomplish.

With respect to this season being any more important than any other season in their careers, I don't 'think so. It's a matter of everyone knows that they have to perform at a high level every year, and we really do want a very high level of performance out of everyone in the organization, and we want to make them accountable. There's nothing about this year that's any different than years past in terms of how important it is, but it will be really enlightening for us. We'll learn a lot about everybody this year. But so far so good. Inside the Cubs.
That's probably the answer you'd expect – the consummate non-answer. If anything, it was not a ringing endorsement of Hendry, and certainly does not close the door on a dismissal at the end of – or before – the year.
---
Latest from Bleacher Nation: