Obsessive Ramirez Suck Watch: Aramis About to Get Bumped Down the Lineup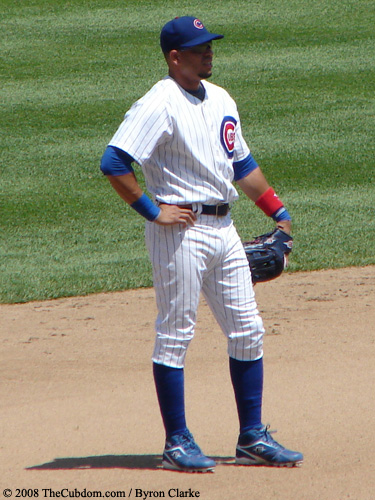 After more than a month of terrible performance, Chicago Cubs third baseman Aramis Ramirez is going to head down the lineup. How far he falls is up to manager Lou Piniella, but it's unlikely to be more than a spot or two. One thing is for certain: until he starts hitting again – or at least looks markedly less foolish at the plate – he definitely won't sniff the cleanup hole.
"This has been five weeks of this now, going into the fifth week," Piniella said….

Ramirez was hitless again, leaving runners on base in three of his four at-bats, twice in scoring position. His average is down to .149, and his strikeouts are up to 26.

"You've got to be patient with good hitters," Piniella said. "So that's not a problem or a concern. But at the same time, we'll see what we do with the lineup, see if I don't just juggle it around just a little bit in the middle. We'll see."

Piniella already has given Ramirez, who is making $15.75 million this season, multiple days off twice in the early going and against the Pirates batted him fifth instead of fourth for the seventh time.

"I've been thinking about moving [Alfonso] Soriano up a little," Piniella said after Soriano, who batted sixth, homered for the fourth consecutive game. "We'll see what happens with that. We do need Ramirez to hit. There's no question."…

"I don't care," Ramirez said of the possible downward move in the order. "I'm going to do my best wherever I hit. If I hit first or ninth, I'm going to try to do my best. It doesn't matter where I hit."

Trying to do his best hasn't been the problem. Between extra batting practice and work with hitting coach Rudy Jaramillo, it seems less a matter of effort than a matter of time. But how much time?

"Right now, I'm off everything," Ramirez said. "I'm late on the fastball, early on the breaking ball. I don't know what's going on. It's the first time I've ever gone this far without figuring out what's going on.

"And I feel good out there. I'm 110 percent [physically] right now. I can't be any better. I have no excuses." CHICAGO SUN-TIMES.
You never hope that a guy is hurt, but in Ramirez's case, the explanation would at least provide some ironic comfort. Ramirez will start hitting again at some point, but how many games will his slump have cost the Cubs by then? There can be no doubt that at least a couple of the Cubs' close, low-scoring losses would have had a different outcome had Ramirez been his usual self.
There's an ugly rumor floating round, which to my knowledge (via Sons of Ivy) started with Dave Kaplan on WGN Radio, that Ramirez, for all his struggles, refuses to work with hitting coach Rudy Jaramillo to work things out. As a veteran, apparently Ramirez feels he should be able to get out of the funk on his own.
As for the corresponding move – Alfonso Soriano moving up the lineup – it is necessary and understandable. At the same time, am I paranoid for worrying that it will screw up Soriano's mojo? He looks like a man possessed at the plate right now, both when he swings and when he doesn't. At times it looks like he knows whether the pitch is a ball before it even leaves the pitcher's hand.
---
Latest from Bleacher Nation: