The Chicago Cubs Would Like to Trade Derrek Lee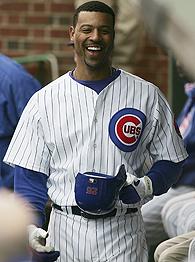 Well here's a bit of a shocker – at least, it's a shocker that this is coming up in May as opposed to July. The Chicago Cubs are willing to move first baseman Derrek Lee. Not as shocking? Nobody's interested.
Derrek Lee, first baseman, Cubs: If the Cubs could move him, they would, according to multiple scouts. The 34-year-old first baseman is in the final year of a five-year, $65 million contract, earning $13 million this season. The Cubs are looking to shake things up, but a taker for Lee will be hard to find if teams feel his bat is slowing. Lee also has a no-trade clause. The Boston Globe.
Lee will start hitting soon – of that, I have no doubt. But even if the Cubs decided their 2010 season was over (and although I'm pessimistic, it's *way* to early to call it), how much of Lee's contract would they have to eat to move him? Could they really get something of value in return?
And most importantly, who plays first base for the Cubs in 2011? For the rest of 2010, it wouldn't really matter – heck, Xavier Nady could fill the spot if need be. But in 2011? The Cubs will need a real first baseman. Maybe the guy is Lee, and maybe he's still the guy even if he gets traded.
But if it isn't Lee, it surely isn't going to be anyone presently in the Cubs' system.
---
Latest from Bleacher Nation: