Bobby Howry is a Leader, If Not a Pitcher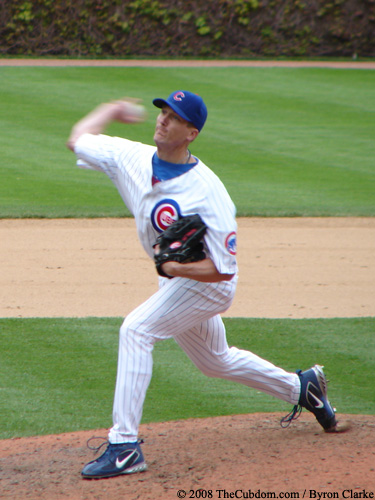 In a surprising move, to say the least, the Chicago Cubs welcomed Arizona Diamondback cast-off Bobby Howry into the fold this weekend – directly into the fold. He's a member of the bullpen now, without so much as having to throw a single minor league pitch to prove himself.
"If I didn't think I could pitch, I wouldn't come back," said Howry, 36, who rejoined the Cubs' bullpen as expected Friday in Texas.

For the Cubs, it's a no-lose situation — the move costing just under $300,000 in pro-rated big-league minimum salary with the rest of Howry's $2.25 million the responsibility of the D-backs.

They get the known quantities of veteran leadership for a young, struggling bullpen, a high-character clubhouse guy and a track record for Howry that suggests he might be just a few days or weeks from his productive months. CHICAGO SUN-TIMES.
Two things: (1) If the Cubs were simply looking for a known quantity of leadership in the bullpen, sit Greg Maddux down there. (2) This is not a "no-lose" situation. Yes, the Cubs might not lose much money – but it wouldn't taken many games of Howry blowing it before we'd realize, "oh, I guess this is a some-lose situation."
Until he proves it, he'll be a middle-inning guy. But with the dearth of right-handed production in the pen this year, it might take only one, maybe two, successful outings from Howry to get manager Lou Piniella to put him back in the late-inning setup role he once filled for the Cubs.

The Cubs' reports on Howry this season say his 10.67 ERA in 14 appearances is the result of below-normal velocity and command issues. The velocity issue matches his career trend, of gaining strength around the first part of June, and the Cubs are confident command won't be a long-term problem for such a historically aggressive veteran pitcher.

"One thing we noticed about Bob when he was here was that as the summer progressed, he pitched better," Piniella said. "So let's hope it's the case here and he helps us. I'm happy to have him back here. … I really enjoyed having him in our clubhouse as a player and as a person. He's A-1."
The steak sauce? Anyway, let's hope the Cubs are right on their scouting. The Carlos Silva experience has bought some faith on my part, so I'll roll with it for now.
But Howry's appearance on Sunday did little to inspire confidence: he faced three batters and two of them reached base. He was the veritable right-handed answer to John Grabow.
---
Latest from Bleacher Nation: