Andrew Cashner to the Iowa Bullpen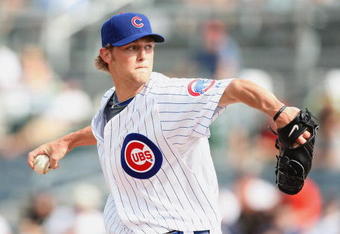 Surprising news out of AAA Iowa today, as top pitching prospect Andrew Cashner – he of the sub-1.00 ERA as a starter at Iowa – is being moved to the bullpen today.
"It surprised me when I first heard about it," said Cashner, who got the news Wednesday. "I talked to (the Chicago Cubs) about going to relief a while back, but it was always their thought that I was going to start.

"Working out of the bullpen is something right now that excites me."

It's likely Cashner's best route to the major leagues, for the moment, considering the Chicago Cubs have six starters for five spots in the rotation,

"We did the same experiment with Jay Jackson," Iowa pitching coach Mike Mason said. "Jackson passed, now it's Cashner's turn to see if he can acclimate to the bullpen."

Chicago Cubs relievers had an ERA of 6.34 before Wednesday night's game against the Dodgers.

"I haven't thrown out of the bullpen much in pro ball," said Cashner, a starter during 33 of his 35 professional appearances since the Cubs selected him in the first round of the 2008 draft.

"It's a new challenge."

Cashner spent most of his TCU career as a closer.

"It very well may be that he comes back to the starting rotation," Mason said. "It's all predicated on what happens in the big leagues." Des Moines Register Staff Blogs.
The timing is, of course, interesting given the rotation shakeup that's about to occur with the big team in the coming week. Could this mean that the bullpen will be modified as well?
We could take this at its face value: a mere experiment to see how Cashner adjusts to swapping between the rotation and the bullpen, and to see how effective he looks out of the pen. That said, if he looks good, is there any doubt that he'll be joining the Cubs' bullpen in short order?
What this means for other top pitching prospect Jay Jackson is unclear. Does this mean he returns to the Iowa rotation? How many right-handed relievers are the Cubs looking to groom in short order anyway?
---
Latest from Bleacher Nation: