Angels Looking at Xavier Nady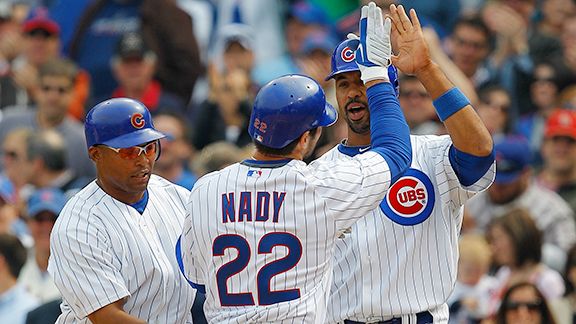 With the Chicago Cubs continuing to struggle and loaded with expensive players, the rumors were bound to start swirling. Of late, we're used to being fans on the other side of the equation – whom are the Cubs going to acquire? At present, we're wondering – whom are the Cubs going to trade?
Up first, new Cub Xavier Nady.
Add Xavier Nady to the list of potential trade targets for the Angels in their quest to replace first baseman Kendry Morales, who broke a bone above his left ankle in a freak mishap while leaping onto home plate in celebration of his walk-off grand slam Saturday.

Nady, 31, signed a one-year, $3.3-million deal with the Chicago Cubs after missing most of 2009 because of elbow surgery. The outfielder has started 60 big league games at first base. latimes.com.
As a newly-signed free agent, Nady cannot be traded (without his permission) until June 15.
Nady makes a great deal of sense to move, regardless of whether the Cubs are actually in sell mode. With the unexpected emergence of Tyler Colvin, Nady became somewhat superfluous. If the Cubs moved Nady at this point, it's likely they'd do so for prospect(s), though picking up a reliever is also a possibility.
---
Latest from Bleacher Nation: