Andrew Cashner to Take Over as Right-Handed Setup Pitcher for Now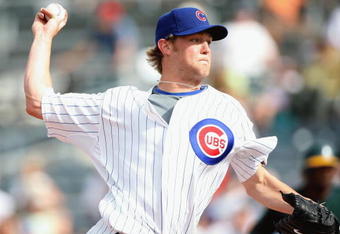 The Chicago Cubs may have finally found their long-elusive right-handed setup man – former first round pick, and former dominant minor league starting pitcher, Andrew Cashner.
Cashner had a five-up, five-down performance in just his third big-league appearance, on just his seventh day in the majors — a prelude to his new role as an eighth-inning setup man. Piniella announced that substantial promotion after the game.

"It looks like he's comfortable out there," Piniella said of the 2008 first-round pick out of Texas Christian, whose fastball reached 98 mph Sunday. "We haven't had too much of that [kind of velocity]. It's nice to get a good young arm." CHICAGO SUN-TIMES.
This is, of course, fine for now. Long-term, however, if Cashner can make it as a big league starter, he should – a top notch starting pitcher has a great deal more value than a top notch reliever.
When relieving, Cashner can crank his fastball up to the high-90s. Combine that with a couple very good secondary pitches, and there is no reason to believe he cannot succeed as a setup man immediately.
---
Latest from Bleacher Nation: