Neither Derrek Lee Nor Lou Piniella Expect Lee to be Traded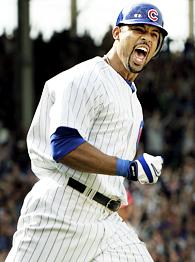 Late last week, there were several rumors surrounding Chicago Cubs first baseman Derrek Lee (as well as bench bat Xavier Nady) as a possible trade target for the suddenly-in-the-market-for-a-first-baseman Los Angeles Angels.
But Lee says he doesn't think there's much to the rumors, nor is he particularly eager to waive his no-trade clause and leave the Cubs.
"I think it happens with every team," Lee said. "When you're not playing well trade rumors pop up. When you turn it around and play well, you won't hear them. It's just part of the business."

The Cubs have denied they've talked with the Los Angeles Angels about Lee, as was reported Thursday in the Tribune.

"Who are the 'excellent sources?'" Lee asked. "I've heard nothing on it. I've got nothing for you."

Lee said he was not bothered by the speculation. When asked if he wanted to stay with the Cubs, he said yes….

"I think the Angels are probably going to throw every first baseman's name out there," Lee said. Chicago Breaking Sports.
Lee's manager, Lou Piniella, is singing largely the same tune.
Recent published reports of trade talks involving Derrek Lee and Xavier Nady appear to be speculation.

"I haven't heard one word about Derrek," Piniella said. "In fact, I haven't heard one word about any of our players, as far as trade considerations. That's something that [general manager] Jim [Hendry] and I haven't discussed one time. So with Derrek, absolutely not. We haven't heard anything at all. I haven't heard anything.

"I don't anticipate anything happening here. But that's not my area." CHICAGO SUN-TIMES.
If the Cubs keep losing – especially to the likes of the Pirates and the Astros – it would be criminal not to consider moving a guy like Derrek Lee. Lee is in the last year of his contract, which pays him $13 million this year. That means there is a 0% chance that the Cubs will offer him arbitration after this year (because he'd get at least $13 million in 2011), which would be the only reason to keep him at the trade deadline (if you offer a free agent arbitration and he declines, you get draft compensation).
---
Latest from Bleacher Nation: