Carlos Zambrano Will Officially Rejoin the Rotation on Monday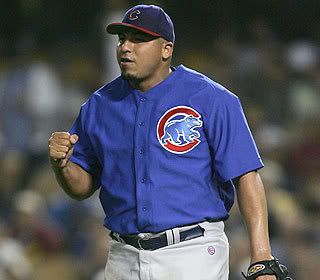 The Chicago Cubs made clear yesterday that Carlos Zambrano will rejoin the team's rotation on Monday when he starts against the Giants in San Francisco. Again: in San Francisco. It ain't a coincidence that it's coming on the road.
As for Zambrano, he's unsurprisingly excited about the opportunity.
Whether the 11 starts he figures to get over the final two months wind up being his final 11 as a Cub, the embattled right-hander says he appreciates the assignment with a new outlook after more than a month away from the team.

"Sometimes you don't know what you have until you lose it," said Zambrano, who will be making his first start since airing out teammates June 25 at U.S. Cellular Field, earning a suspension and monthlong exile to the restricted list while he underwent anger-management counseling.

"When you lose it, you realize that you had something good — in your career, in your life. And I don't want to lose this opportunity," Zambrano said. "Look, I just want to pitch here and just want to be happy here, in Chicago. And I just want people to be happy, and the way to do that is pitch good." CHICAGO SUN-TIMES.
All we can do is root for Zambrano at this point. Be angry or bitter if you want, but Zambrano pitching well will only help the Cubs – either allowing them to trade him this winter, or allowing him to get his head in the right place to succeed next year.
When Carlos Silva finally returns from the disabled list, Carlos Zambrano will almost certainly remain in the rotation, with whatever youngster is holding down a spot at the point getting bounced – be it Thomas Diamond or otherwise – unless the youngster is dominating and Zambrano is miserable.
---
Latest from Bleacher Nation: