Starlin Castro: Rookie of the Year?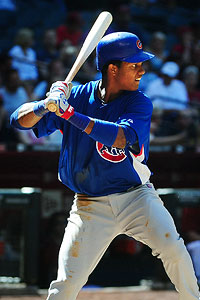 I semi-jokingly made the comment in an EBS a couple of weeks ago, but Chicago Cubs shortstop Starlin Castro is making it look a whole lot less jokey lately. Could he really be the NL Rookie of the year?
Castro, a legitimate contender for National League Rookie of the Year honors, is batting .318 with three homers, 20 doubles, five triples and 32 RBIs in 77 games. He posted his first career four-hit game on Wednesday, missing the cycle by a home run. It was his third consecutive multi-hit game.

Since July 10, Castro is batting .432 with 13 runs, 11 doubles, two triples, a home run, 10 RBIs and 13 multi-hit games. Part of the surge during that stretch could be because his family has been with him, joining him in Chicago from the Dominican Republic since the All-Star break.

"The kid's a good player," Cubs manager Lou Piniella said of Castro. "He's getting confident with that bat. He's hitting the ball in the gaps and this kid's going to be a good player for a long time in the big leagues."

[Buster] Posey, named NL Player of the Month for July, was batting .355 with a .540 slugging percentage. Davis has 53 RBIs. Atlanta's Jason Heyward, the preseason favorite for the NL rookie award, has 50 RBIs and 11 homers in 90 games. Mike Stanton drove in 52 runs in 53 games at Double-A before he was called up to the Marlins in early June. He's driven in 31 in 47 games so far. cubs.com.
If going solely by OPS and games played, Castro compares adequately, but not favorably to Posey and Heyward. Posey leads rookies with a .922 OPS, but he's done it in just 58 games. Heyward has an .826 OPS in 91 games, which should give him the slight edge at this point over Posey.
Castro has an .823 OPS in 77 games (get this, he's actually out-slugging Heyward at this point), which probably puts him somewhere in the same league as Posey and Heyward, but maybe slightly below them.
But that's only if you consider offense. Castro has been playing shortstop – the most difficult and important defensive position (outside, arguably, of catcher), and by all accounts has been average. Tell me, folks: would you rather have an average defensive shortstop putting up the kind of numbers these guys are putting up, or an average outfielder or part-time first baseman/part-time catcher?
---
Latest from Bleacher Nation: