Chicago Cubs Almost Traded Mike Fontenot and Xavier Nady to Giants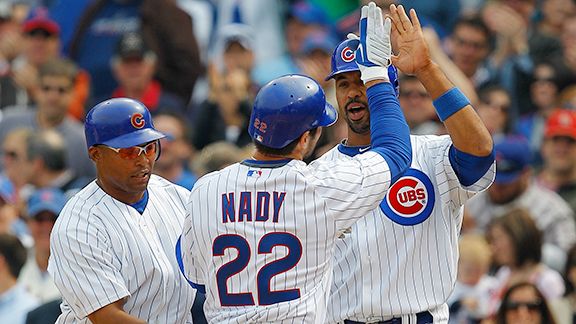 We haven't heard too much about the trades that never were, but it seems that the Chicago Cubs nearly dealt outfielder Xavier Nady and infielder Mike Fontenot to the San Francisco Giants just before the trade deadline.
Obviously the trade never materialized, and now the Cubs will work to deal the players via the waiver system, if at all. For his part, Nady is not concerned.
"I've already been through it," said Nady, who had two hits while filling in for first baseman Derrek Lee (bereavement list) in the Cubs' 4-3, 11-inning loss Monday to the San Francisco Giants. "You're always going to hear and have speculation that you might go here or there. For me, it's just an everyday thing. I've been through it a few times, [so] it doesn't really bother me or distract me."

Nady, who nearly was traded to the Giants with infielder Mike Fontenot two weeks ago, was dealt three times in less than three years from 2005 to 2008.

With the Cubs' season tail-spinning, the team is sorting through myriad roster decisions with an eye toward next season and is willing to send a veteran or two to a club in the playoff hunt. But Nady said that's not something he spends much time thinking about.

"Playing for the Chicago Cubs right now is my priority," he said. "And … to hopefully produce and help the ballclub win in whatever aspect that might be." CHICAGO SUN-TIMES.
The mention of a near trade is thrown in as an aside, as if it was common knowledge, but I certainly didn't hear anything about it (and I kind of pay attention to these things). I wonder what the trade details were, and why it fell apart.
Neither Nady nor Fontenot would bring much in return. Nady is a free agent at the end of the year and hasn't produced, and although Fontenot is under control next year, teams may not be interested in paying him the $1.3+ million he'll make in arbitration.
---
Latest from Bleacher Nation: