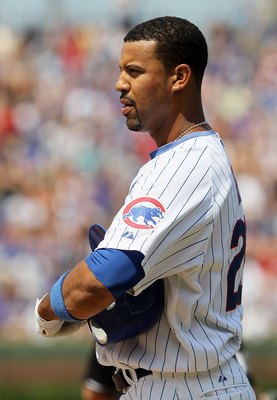 In mid-November 2003, I was bitter.
The Chicago Cubs had just blown their best chance to head to the World Series in decades – a better chance even than their 4-1 NLCS loss to the San Diego Padres in 1984. They had a rotation built for the playoffs, and Sammy Sosa still crushing. Yes, I was bitter. I was angry.
And one man, more than any other, drew the full thrust of my ire at that time. How I hated him. No, it wasn't Steve Bartman. It wasn't even Alex Gonzalez.
How I hated Derrek Lee.
The hate may not have been rational. The Marlins first baseman had not even had a good NLCS against the Cubs – he put up an anemic .188/.235/.344 line, and was largely invisible for the series. But it was his two-run double in the top of the 8th inning of Game 6 that made my salivary glands pump poison. It came right on the heels of the Bartman play and the A-Gonz boot, and tied the game at 3 – and we knew it was only going to get worse.
I hate you, Derrek Lee.
Just a few weeks later, Derrek Lee was a Chicago Cub – traded by a penny-pinching owner who knew how to win in his small market – and I didn't miss Hee Seop Choi a lick. Suddenly, I loved Derrek Lee!
And it was more than mere I-love-this-guy-because-he's-a-Cub-and-I-love-all-Cubs love. I realized that I had secretly been a Derrek Lee fan for a while. He was a hulking kind of guy – a guy who'd turned down a basketball scholarship at North Carolina in favor of playing baseball. He was a Gold Glover at first base (something that made all Cubs fans at the time feel atwitter, remembering Mark Grace as fondly as we did), and he was clearly entering his offensive prime.
I love you, Derrek Lee. And I didn't even know the half of it yet.
In his time with the Cubs, Lee became a star, an offensive force, and a quiet leader. He consistently exemplified what we all wanted to see in a Chicago Cub. He performed; but when he didn't, he made no excuses, and just kept working. We all – rightly – admired him.
Derrek Lee will always be a part of our collective memory of the 2000s – both for the good and the bad. But one thing is certain: we're all better for having had him as part of the Chicago Cubs. He will be missed.
Now, having been traded to the Braves in the thick of a pennant race, he'll have the chance to bookend his time with the Cubs with two championships. Good luck, Derrek. Come October, I'll be a Braves fan.
---
Latest from Bleacher Nation: