Now Carlos Zambrano Says He Wouldn't Waive His No-Trade Clause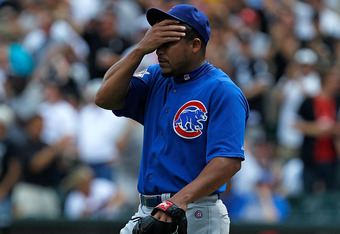 Not but a couple weeks ago, Chicago Cubs starter Carlos Zambrano – freshly off the restricted list, where he'd been serving a team-imposed suspension, and going to anger management, following a dugout tirade – said he would allow the Cubs to trade him this Winter if they really wanted to (protip: they do). Zambrano, you'll note, has a no-trade clause, so he can block any potential trade.
Now, Zambrano has completely flipped, expressing a desire to stay in Chicago, and suggesting he would indeed veto any trade that takes him out of town.
Zambrano was asked what he thinks the team might have in store for him in the future.

"I don't know," Zambrano said. "But it's my option. I don't want to leave Chicago. I want to be successful here. I want to help this team, like I always say, be in the pennant race."

When Zambrano came back to the team in San Francisco, he said at that time, he'd allow the Cubs to trade him if they decided they no longer wanted his services.

"I don't want to leave," Zambrano said. "And I don't think I will leave." ESPN Chicago.
For now, this is all academic – there will be no trades on the table for several months. The Cubs hope Zambrano continues to pitch well in his return to the rotation (though the word "continue" is probably not the right choice there, given Zambrano's deceptively poor performances), and they'll let the rest shake out however it does this Winter.
For what it's worth, Jayson Stark quotes one NL Exec who says the Cubs can move Zambrano only if they eat almost all of his deal, and another who says the Cubs can't move Zambrano no matter how much they eat. Both say that the reason is not Zambrano's attitude or shenanigans – it's his lost velocity and suddenly average pitches.
---
Latest from Bleacher Nation: