Ryne Sandberg: Manager of the Year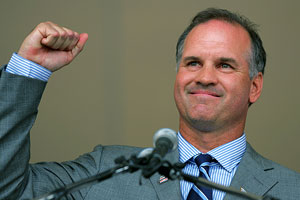 Ryne Sandberg, manager of the AAA Iowa Cubs, was named the Pacific Coast League's manager of the year yesterday. You can't help but wonder if the hardware will help his cause in the Cubs' managerial search.
In Sandberg's first season as Cubs manager, the team was a season-high 21 games over .500 entering Thursday's contest at Albuquerque.

The Cubs are a in a duel with Memphis and Omaha for the PCL's Northern Division title. Memphis and Iowa play four games at Principal Park, starting at 7 p.m. today, to end the regular season. The Cubs have had at least a share of the division lead for 47 straight days.

Sandberg, a Hall of Fame second baseman with the Chicago Cubs who managed at single-A Peoria and double-A Tennessee earlier in his career, is having success at the triple-A level this season despite the fact that there have been 107 player transactions. That includes eight players who have been called up from Iowa to Chicago and made their major league debuts this season – Andrew Cashner, Brian Schlitter, Casey Coleman, Marcos Mateo, Thomas Diamond, Scott Maine, Darwin Barney and Welington Castillo. The Des Moines Register.
That the Iowa Cubs have remained so successful in spite of all of those promotions to the big club and constant roster shuffling is a testament to – if nothing else – the fact that Sandberg knows how to work with the players he has.
That said, handling a Major League roster – where you've got a slumping $18 million player sitting next to a streaking rookie – is a completely different animal. Still, if Sandberg is to be the Cubs' next manager, winning awards certainly can't hurt.
---
Latest from Bleacher Nation: