Obsessive New Manager Watch: Hendry Praising Quade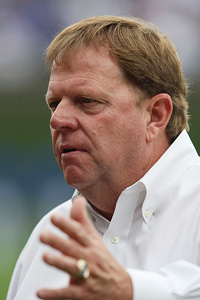 As you should know by now, when something reaching "obsessive watch" status, that means you're going to get every tidbit I can find shoved down your throat. Like it or lump it. Please like it.
Chicago Cubs general manager Jim Hendry is tossing some heavy praise in the direction of current interim manager, and overt managerial candidate, Mike Quade.
"He's managing the game well, he's managing the personnel well, managing the people and the clubhouse well," Hendry said of Quade, who was the Cubs' third base coach before being named to replace Piniella for the final six weeks.

"He's certainly done a very good job," Hendry said. "I think the guys are playing hard for him. Obviously, we're playing a lot of young guys and pitching a lot of young guys. Like I told him, I was never hung up on what our record would be. We're winning our share and getting improvement out of some of the young kids. I give him a lot of credit. I think he's done a real good job so far." Muskat Ramblings".
There isn't a great deal to parse in there, other than to note that Hendry goes out of his way to dispute a point I've made all along (namely, that Quade's interests and the club's interests will be divergent at times as Quade seeks to win right now in order to prove himself). Hendry clearly believes Quade has done well in all respects so far, and that certainly can't hurt Quade's chances of landing the full-time gig.
Neither will his expected salary – which would be significantly lower than some of the other rock stars the Cubs are considering.
---
Latest from Bleacher Nation: