Obsessive New Manager Watch: Mike Quade Picks Up the Support of More Players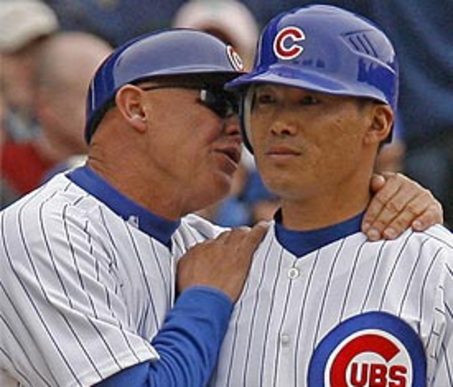 It wouldn't be an "obsessive watch" if you weren't getting multiple posts a day on the subject – so I hope you're not getting sick of it (yet).
Interim manager Mike Quade has steered the Chicago Cubs to a 21-12 record in his tenure. Impressive, to be sure, but record alone is not going to get Quade the job. Winning over the players, however, might just do the trick. Pitcher Randy Wells has already come out in support of Quade getting the full-time gig, and now Ryan Dempster and Marlon Byrd have joined the rising groundswell.
"He's done a great job," pitcher Ryan Dempster told reporters. "He's been very upfront and very honest with all of us, and he's been tremendously supportive. … I hope he's here longer than this year. I hope he's managing for us next year because he deserves it."

Marlon Byrd also endorsed Quade in another report.

It all had Quade feeling pretty good about things even though he's not assured of keeping the job.

"As long as my relationship with (the players) is good, and I think it is, then I stick to that and do what I have to do," he told reporters Wednesday. "To get support from people is better than to not get support. I'm glad they're happy with the way we're doing things and the way things are going. Hopefully, they'll be productive and happy for the next five days." Daily Herald.
History is full of interim managers whose teams win for them in their short stints, they get the full-time job the next year, and fail. Similarly, there are plenty of examples of interim managers who continue on to long and successful managerial careers with that team. Obviously, the Quade-led Cubs winning is better than the Quade-led Cubs losing. I simply hope that the winning is not the deciding factor – or even a primary factor.
---
Latest from Bleacher Nation: