Will the Chicago Cubs Look to Bring Back Kerry Wood?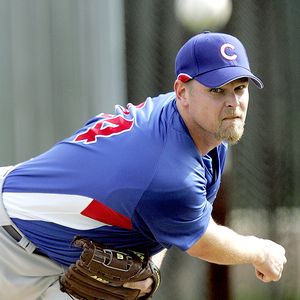 It is not a secret that the 2010 Chicago Cubs' bullpen blew. Injuries, underperformance and inexperience conspired to torpedo the pen for long stretches during the season. So the fact that the team will look at some veteran reliever options this Winter should also not be a secret.
But one of those reliever options might be a pleasant surprise.
Most believe the Cubs need one more veteran right-hander to help Andrew Cashner grow into the setup role, and one prominent free agent on the radar is ex-Cub Kerry Wood.

After struggling in Cleveland, Wood has posted an 0.36 ERA in 25 innings since being traded to the Yankees to serve as setup man to Mariano Rivera.

"I saw him a couple of times," Marmol said. "He's looking pretty good. Good for him."

Wood, who still makes his home in Chicago, probably would have to accept a one-year deal with incentives because of his history of injuries. Marmol said the decision wasn't his to make, but the idea of having someone like Wood "sounds good."

Whether Wood would accept a role as a setup man after serving as the team's closer 2008 is unknown, and he certainly will receive some offers to close. When Wood left the organization amicably after the 2008 season, he joked he may return someday as a player-manager.

General manager Jim Hendry doesn't have Wood on his long list of managerial candidates, but he may have the former Cub on his short list of free agent relievers, especially if the price is right. Chicago Tribune.
First, an aside: the Cubs need a veteran reliever to help Andrew Cashner transition in the setup role? I really hope that's just speculation, and not organizational dogma. Why in the world would the Cubs *convert* Cashner into a starter after drafting him only to *UN-CONVERT* him back into a reliever at the Major League level? It was a fair assumption that the Cubs would give him a crack at the rotation next year at some point.
As for the substance, Wood has been as dominant with the Yankees as he was terrible with the Indians. He'll be a tough one to peg on the free agent market, but he's likely to get a whole lot less than the 2 years/$20 million he got when he left the Cubs. Recall, the Cubs did not so much as offer Wood arbitration because they knew he'd accept (even though he could make more money elsewhere, as he ultimately did). That shows how much Wood loves this organization. If he wants to return, the odds are good that the Cubs will give him a long, hard look.
---
Latest from Bleacher Nation: