Carlos Zambrano: Adam Dunn Wants to Play for Chicago Cubs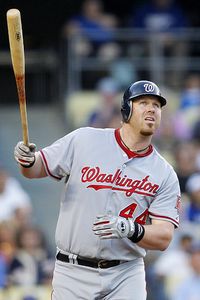 Now that Carlos Zambrano has confirmed his desire to remain with the Chicago Cubs for the foreseeable future, he's making plans for the team. Specifically, he thinks the Cubs need a big bat in the middle of the order (the Amazing Kreskin that guy is), and he says that guy should be soon-to-be free agent Adam Dunn.
Looking ahead to next season, Carlos Zambrano says the Cubs need another big bat in the lineup. And he has the right man for the job in mind in Nationals first baseman Adam Dunn, slated to be a free agent this offseason.

"I want that guy," Zambrano said. "He wants to play for us, not only this year but two years ago. He told me he wants to play at Wrigley Field badly."

The Cubs pitcher said Dunn said he wanted to take aim at Wrigley Field in 2008, when he was traded by the Reds to the D-backs. cubs.com.
Other than Adam Dunn, the options for the Cubs at first base next year are slim (Derrek Lee could come back… just sayin'), so it remains possible that the team will try to use a one-year holdover before going after Adrian Gonzalez in 2012. There's also that bugaboo about the Cubs' payroll for 2011 already being nearly maxed out.
Depending on how "badly" Dunn wants to play for the Cubs, maybe he'll have interest in a reasonable deal that would put him within the Cubs' price range, and make him too attractive to pass up in the mere hope that Gonzalez would come calling next year.
---
Latest from Bleacher Nation: