Turns Out the Cameron Maybin Trade Hurt the Cubs' Chances at Landing Adrian Gonzalez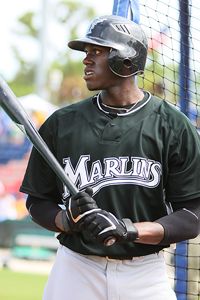 It would have been logical to brush off news of this weekend's Cameron Maybin trade as completely irrelevant to the Chicago Cubs. Sure, the Cubs are hoping to deal with the Padres for first baseman Adrian Gonzalez, but ostensibly, nothing in the Padres giving up a couple relievers for a young, inexpensive outfielder would affect those hopes.
Turns out, it would.
A source indicates that, prior to acquiring Maybin, the Padres were very interested in a couple young outfielders in the Cubs' system: namely top prospect Brett Jackson and reigning Cubs minor league player of the year Brandon Guyer. With Maybin in the fold now – together with Ryan Ludwick, Kyle Blanks, Will Venable, Chris Denorfia, Tony Gwynn, Jr., and Ryan Cunningham – the Padres may turn their attention elsewhere.
From my perspective, it seems highly unlikely that the Cubs would have moved Brett Jackson anyway. And with the two excellent young relievers moved out from the Padres, perhaps the Padres will focus on acquiring young pitching (and when it comes to young relievers, the Cubs have talent in spades). You would have to expect the Padres to have interest in guys like Andrew Cashner, Chris Carpenter, Jay Jackson, and (the virtually untradeable) Chris Archer.
---
Latest from Bleacher Nation: