Competition Brewing Between Aramis Ramirez and Carlos Pena?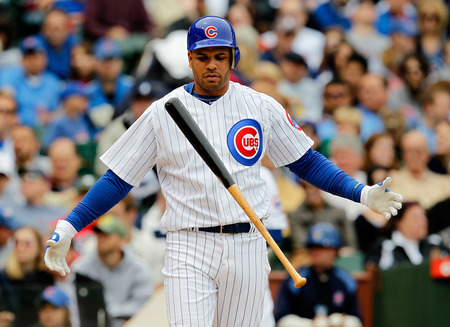 Chicago Cubs third baseman Aramis Ramirez is coming off his worst season with the team. New Cubs first baseman Carlos Pena is coming off his worst season in recent memory. Both are hoping for a bounce back in 2011, but one doesn't really have anything to do with the other, right? Each hopes for success individually, and each hopes to contribute to the success of the team. And that's true of every Cub.
But is there something different about Ramirez and Pena?
Pena also may contribute to the Cubs in another way. He and Aramis Ramirez are the same age, are projected to hit in the middle of the order, and are both unsigned for 2012.

"Ramirez is a real competitive-type person and he wants to be the man," Jaramillo said. "Here's somebody now who can be the man and I think it'll help [Ramirez] want to do better. It's competition, and he's real competitive. Ramirez has been the man here — him and Derrek Lee. I think Carlos will be good for him and I think Carlos will push him. I think they'll be good for each other."

Ramirez and Pena first met in the Dominican Republic when they played in winter ball. This is the last year of Ramirez's deal with the Cubs; Pena signed a one-year, $10 million contract.

"If [Ramirez] wants to keep playing, then they'll compete and do something this year," Jaramillo said. "He should be motivated, but the whole key is does he want to continue playing? He's got all the money in the world. I think he'll do a lot better. Our rapport is a lot better. I took a lot of stuff that I usually don't, but I had to be patient and I think it'll work out in the end."

Both Ramirez and Lee said they felt they were their own best hitting coaches and, as veterans, knew their swing better than anyone. It took time for Jaramillo to build up a relationship with the third baseman. Ramirez also said he wasn't healthy last year, which contributed to his .207 average in the first half.

At the end of last season, Ramirez did go the batting cage more and asked for some assistance. When asked at the Cubs Convention about his relationship with Jaramillo, Ramirez said it was good.

"I believe he trusts me more," Jaramillo said. "Some guys are harder than others." cubs.com.
It's certainly an interesting theory – a couple of down on their luck, soon to be free agents, battling against themselves and each other. Will it actually play out that way? I'm not so sure. As noted, Ramirez played with Derrek Lee for years, and there was never a sense that they were competing with each other to be "the man," or to have the best numbers.
The comment about whether Ramirez "wants to keep playing" struck me as a bit concerning, but I think it's just a matter of an odd choice of phrasing by Jaramillo. Surely Ramirez wants to play beyond 2011, and to that end, he'll do his best to perform at a much higher level this year than he did last year. Whether that's better or worse than Carlos Pena remains to be seen.
Still, Pena has already reached out to Jaramillo, and has already started working on his swing. If that gets Ramirez on the horse a little earlier than usual, and working a little harder than usual, you'll hear no complaints here.
---
Latest from Bleacher Nation: