John Grabow Hopes to Be Useful This Year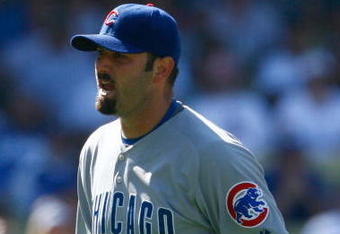 It's no secret or unfair criticism to say that John Grabow was brutal last year. He was able to pitch only intermittently, and when he did, he was as useful as a tee-ball tee.
But now he's much more healthy, and determined to be a valuable component of the Cubs' bullpen in 2011.
Grabow's case is different but the same. He needs to be mentally sure his left knee has healed from nearly yearlong soreness that ended his season June 28, and he needs to regain the confidence of an organization that gave him a two-year, $7.5 million contract.

"I never really had an injury before, and it came right after I signed the contract," Grabow said, "so I'm looking to redeem myself."

Instead of having surgery for a torn ligament, he opted for rehab. And while he has passed all tests, including throwing off a mound, it has been done while wearing a brace.

"I'm going to throw in the brace until I feel comfortable where it's not an issue," he said. "But if I have to wear it all season, I will because this could be a real special year for our team."

Grabow hopes to regain his role as main setup man, although Sean Marshall basically won it while Grabow was away. Chicago Tribune.
As frustrated as I was with Jim Hendry's decision to re-sign Grabow (after trading for him and Tom Gorzelanny mid-season in 2009), and as apoplectic as I was at Hendry's decision to give Grabow two years and $7.5 million, it is unfair to take out that frustration and anger on Grabow, himself. This is clearly a guy who wants to pitch well for a team that rewarded him so handsomely. If he didn't, he would have opted for surgery, and rehabbed on the Cubs' dime. Given that he's under contract for just the 2011 season now, the fact that he's decided to try and rehab instead demonstrates that he's trying to be as effective as possible as soon as possible – rather than thinking about his next free agent contract.
Maybe I'm giving him too much credit, but I think Grabow could be a useful – if not more – piece in the Cubs' bullpen. The salary is spent, and the roster spot is assured. We can do nothing more than hope, as Grabow does, that he pitches well with the opportunity and cash he's been given. I think he will.
---
Latest from Bleacher Nation: