Are the Chicago Cubs the Most Likely Destination for Albert Pujols if He Becomes a Free Agent?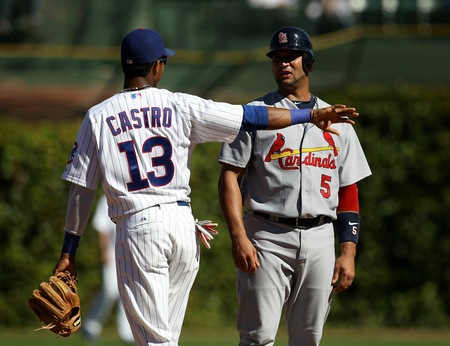 The St. Louis Cardinals and star first baseman Albert Pujols are running out of time to negotiate an extension beyond the 2011 season, if Pujols' stated negotiating deadline is to be believed. If the two sides can't agree to an extension by the start of Spring Training, Pujols says he won't negotiate until after the season – meaning he'll likely taste free agency.
If he does, he'll be the best free agent to make it to market in over ten years, and will set every team that could use an upgrade at first base into a tizzy. Say, don't we know a team that could use a first baseman in 2012?
Among the items making the rounds are that: A) Pujols has told the Cardinals he'll use his 10/5 rights to veto any possible trade, and B) that the Cubs are in the best position to make a run at Pujols if he hits the free-agent market next fall. […] And the Cubs and Pujols?

That's anybody's guess, as the Tom Ricketts regime has not shown the potential to invest in such a blockbuster in their first two offseasons in charge. But Pujols obviously is a different case than anyone who has been on the market.

The Cubs clearly will be positioned to make a big move. They have about $116 million in guaranteed salaries for 2011, but only $70.6 million for '12. They will clear up $35 million if they don't retain Kosuke Fukudome, Carlos Silva, Carlos Pena and John Grabow, and almost $48 million if they also let Aramis Ramirez walk.

Even at $30 million a year, Pujols could fit, although not as easy as you'd think. A significant part of any salary surplus will be gone after unsigned guys like Matt Garza, Carlos Marmol and Geo Soto get their share — but '12 is the last year that Carlos Zambrano is on the books at $19 million a year, so the Cubs could use a shoehorn in '12 and then look at Pujols as a combination of Zambrano and Fukudome for future seasons.

Going in their favor is that they could have a very young, talented outfield (although Alfonso Soriano is signed through 2014), and shortstop Starlin Castro should remain a bargain for another three or four years.

No question, signing baseball's best player away from your division rival would be a huge coup for a team and ownership group that could be dying for one next winter. But Pujols will be 32 on Opening Day, 2012. Doesn't his performance have to start sliding in his mid- or late-30s?

Pujols has been a bargain for the Cardinals, and is looking for a deal that ends the club-friendly trend. The starting point in his St. Louis talks is believed to be 10 years, $300 million, and while it's arguable if the Cardinals can put strong teams around a $30 million player — don't forget we're talking about one of baseball's smallest markets — it wouldn't be shocking if he got a deal somewhere close to that.

Normally, free agents get their maximum value on the open market. But for a guy who will be 32, I'm not sure that will be the case with Pujols. I could see the Cubs or another team signing off on $30 million-a-year, but it's hard to imagine a National League team (other than the Cardinals) going more than seven or eight years. Chicago Breaking Sports.
An obvious concern with Pujols, who has yet to show any signs of decline or aging, is whether he will continue to be productive into his late 30s, as any contract he signs will take him to at least that age. And that's without considering the persistent whispers that Pujols is actually a couple years older than we all believe him to be.
The good news here for Cubs fans is that the Cardinals can only lose: either they re-sign Pujols to an ungodly contract that forces them to make very difficult decisions regarding player retention in the future; or Pujols leaves.
Of course, the Cubs could lose, too: they could sign Pujols to an 8 year, $240 million contract only to find that, when he steps outside the enchanted sphere of St. Louis, he is merely mortal. And old. And really, really expensive.
---
Latest from Bleacher Nation: