Albert Pujols and Cardinal Extension Has "Virtually No Chance"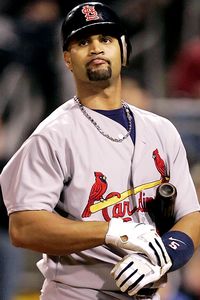 Cardinals' first baseman and all-around ridiculous player Albert Pujols is a free agent after the 2011 season. Perhaps you hadn't heard. Perhaps you also hadn't heard that LeBron James decided to take his talents to South Beach.
Pujols is, of course, the face of the Cardinals, and has indicated his desire to remain in St. Louis for the duration of his career. But he's thrown up a roadblock in discussions of an extension with his team in the form of a relatively arbitrary deadline: once he reports to Spring Training, Pujols says he's done talking about an extension until after the season. And because he's decided to report to Spring Training a little early – February 16th  – the Cards have just a week to put something together that sates the slugger's desire to be the highest paid player in baseball.
According to SI's Jon Heyman, there's "virtually no chance" that happens by Pujols' deadline. Heyman says the two sides are still far, far apart on both money and years – the Cards want to stay in the 6 or 7 year range, while Pujols is shooting for the 10 years that Alex Rodriguez got from the Yankees. Even if the two sides can't work something out right now, there's still a chance they could do so after the season during the Cardinals' exclusive negotiating window (though Pujols would have little reason not to dip his toe into the free agent pool at that point). Still, if he plays out the year as an impending free agent, it will cast a bit of a pall over the Cardinals' season.
And thereafter there's the chance, as Heyman notes another team's GM told him, that Pujols ends up with the hated Cubs in 2012. Indeed, when the Cubs gave Carlos Pena a one-year deal this year, you have to believe they had their eyes on 2012 free agent first basemen – like Pujols. That possibility can't sit too well with Cardinal fans, who will be forced to think about it every time they square off against the Cubs this year – if not every time Pujols steps into the batter's box.
---
Latest from Bleacher Nation: