Randy Wells Is Not the Partier You Might Think Him to Be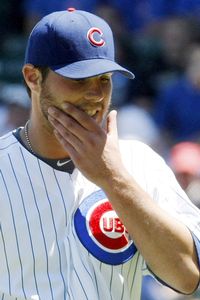 Randy Wells, who should be guaranteed a rotation spot but is not, says he was treated unfairly by the media last year, who painted him as a bit of a partier. Wells, you may recall, was far less effective during day games (4.95 ERA) than night games last year, and folks hinted that the reason could be Wells' enthusiastic night life. In particular, there was a yarn that Wells was out all night partying after the Chicago Blackhawks Stanley Cup win last summer, something Wells has always denied.
With a pivotal 2011 season on the horizon, Wells once again wants to set the record straight.
"I think the two things I got mad about last year was the media or fans' perception of who you are gets tainted by one false story," Wells said. "I wasn't out with the Blackhawks, and I have never gone out before a start.
"I'm not going to make something up and tell you I don't like to go out and blow off some steam and get away from the game a little bit. I like to go out to dinner and catch a few concerts, but who doesn't like to do that? I think because we are Major League Baseball players people think we should live in a bubble and stay inside.
"I'm not a guy who is going to worry about everybody and what they say. I give everything I got to this game. It's the only thing I'm good at. It's the only thing I have ever loved. It means a lot to me, and I'm not going to jeopardize it for a night on the town."
And Wells has been good at the game. Despite the hand-wringing, Wells was almost as effective in his "bad" 2010 year as his "great" 2009 campaign. If he keeps his head on straight – and all indications are that he has – there is little reason he should not claim a rotation spot, even if he's "outpitched" in Spring Training.
---
Latest from Bleacher Nation: