The Marlins Rip the Cubs While Beating Them and Other Bullets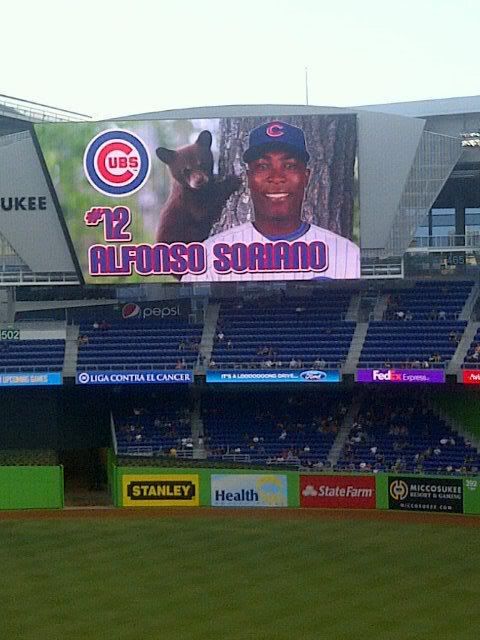 At least no Cubs players were subjected to a cheap headshot last night.
Dale Sveum says he planed to use Rafael Dolis for two innings last night no matter what, and says Dolis would have been fine if it weren't for the Barney error. "I still needed two innings out of that spot," Sveum said. "We're in a tie game. We would have thought about it but still we would have probably waited one more inning because if we scored then it's Wood and then it's [Carlos] Marmol …. [Dolis] threw the ball OK, but walked a few guys, obviously. It all started with an unfortunate error. He would have got four pretty quick outs and it would have been a different story too." Even if you accept that Dolis was expected to go two innings, when that error clearly rattled Dolis (and it was obvious), why not yank him in favor of James Russell? As I said in the EBS, it was all an understandable set of decisions. I'm not sure I agree, but that's probably just hindsight. (Also, why did Sveum mention Wood, who was back in Chicago at that point?)
Sveum rightly pointed out that if the Cubs were able to score a few more runs right now, the Dolis issue could have faded into the background.
Not only did the Cubs lose ignominiously to the Marlins last night, but they were trolled by the home club, too. When the Cubs players were introduced, that picture to the right is what was displayed on the giant board. A tiny little bear cub. Nicely played, Marlins. (H/t to Carrie Muskat for the picture.)
Carlos Zambrano and Geovany Soto had a non-verbal, hand conversation during last night's game. It was strange, but kind of funny.
Dale Sveum is a Steve Clevenger fan already. "He's got what sometimes you call a slump-proof hack," Sveum said. "It's really simple. He uses his hands and doesn't get too big. He understands velocity and what he has to do with it. He can just barrel the ball up and it jumps off his bat too." I think I'll wait until Clevenger starts seeing teams a second time and scouts have a chance to find the holes before I call his bat slump-proof. But Sveum's comments are interesting in the context of a starting catcher – Geovany Soto – who's started the year in a slump.
Neither Ryan Dempster nor Darwin Barney had an excuse for their critical errors last night, each basically saying "I screwed up." I don't really have a beef with either of them. They had good games overall, and their mistakes (which are infrequent) were magnified by the game situation. That's just bad luck for them.
I quipped on Twitter before the game last night that Alfonso Soriano's time in the cleanup spot should probably be coming to an end, given that, while he was hitting .313 at the time, he was also slugging .313 (he's hit only singles). Although he had a nice groundout at bat last night, he also went hitless, dropping his line to .278/.308/.278. It's a super small sample size, obviously, but I didn't think Soriano as the cleanup hitter made sense when the season starter. Bryan LaHair, for the record, is currently going .360/.448/.680.
Paul Sullivan slaps the Marlins for their ballpark and antics in the first few paragraphs of his game recap. It made me chuckle: "The Cubs arrival in Miami this week was seemingly a case of bad timing. They apparently missed the glory days of the new Marlins Park, which managed to draw only 24,544 fans in the fourth game in the ballpark's history. Cheerleaders, an excessively loud p.a. system, a fish tank and a pale imitation of the Brewers' sausage race — using sea creatures instead of sausage products — weren't enough to get the locals excited about going out to watch a baseball game." While I found that funny, I suppose I don't have a problem with the Marlins trying to do something different.
MLBullets at BCB, featuring a relieved set of Red Sox who'll probably get Jacoby Ellsbury back without the need for surgery.
---
Latest from Bleacher Nation: