Trade Deadline Blogathon: Hour Seven
I am currently blogging – here, on Facebook, and on Twitter (hash tag #BNBlogathon for those who want to jump into the fray themselves) – for 30 hours straight, until slightly past MLB's July 31 non-waiver trade deadline. I'll be doing recaps on the process throughout the day, but you'll also see normal posting (Bullets, Series Preview, Pre-Gamin', EBS), as well as an uptick in rumor/trade posts.
While you're taking it all in, how about picking yourself up a BN shirt or sweatshirt or something? You deserve it.
And I'm going to be on the radio at (new time) 4:15pm CT in Pittsburgh (you can listen here) to talk Cubs/Pirates. The Blogathon's tentacles reach everywhere!
Total Posts So Far:
9 (and a couple updates).
News and Rumors Since the Last Recap:
Ryan Dempster remains the heavy focus, with all other players apparently under lock and key.
Most Interesting Tidbit Since the Last Recap:
We've heard now from multiple sources that the Braves would be willing to put Randall Delgado back on the table for Ryan Dempster. But we've also heard that the Cubs are "bending over backwards" to get a deal done with L.A. Grumble.
Also, Carlos Zambrano is apparently headed to the Miami bullpen. Nail down the Gatorade cooler now.
Current Thoughts About the Chicago Cubs' Trade Deadline Strategy/Execution:
Do you want to share your thoughts, and your hopes and dreams for the deadline? Head over to the Message Board and do it.
Current Beverage/Stimulant of Choice:
Coke Zero. I had a late lunch – still trying to re-organize my schedule – so it was my standard lunch beverage.
Strangest Thought Passing Through My Mind:
The Wife is currently taking a nap right in front of me. It's a good thing she isn't pulling this crap tomorrow.
A Selection of #BNBlogathon Tweets:
@BleacherNation Facebook twitter and hourly site updates aren't enough. Can you txt us all during the blogothon too? #BNBlogathon

— Jim Mumford (@jkmumford) July 30, 2012
Just noticed @BleacherNation is rocking cargo shorts during #BNBlogathon. Better than #jorts, bro.

— derp, from online™️ (@D2_Derpinator) July 30, 2012
https://twitter.com/joeyoakes/status/230034314358845441
#BNBlogathon kind of makes my Monday feel like a Saturday in the bleachers #gocubsgo #cubs

— Section 503 (@Section503) July 30, 2012
I think @BleacherNation #BNBlogathon is crazy. I fully expect him to announce that he's traded his pants for Ryan Dempster in Hour 27

— Josh Timmers (@Cubsminorswrap) July 30, 2012
#BNBlogathon sure beats work

— muff diver (@BrianAnderson8) July 30, 2012
Current Mood:
Feeling lecture-y about the Dempster situation, as if to say, "Hey, you guys. Get a good deal done." …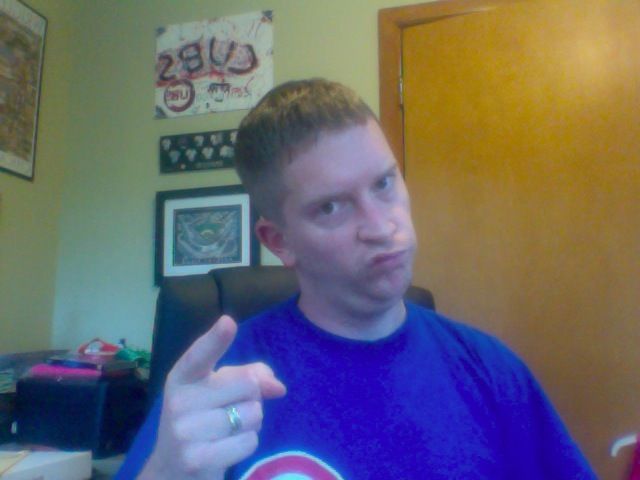 ---
Latest from Bleacher Nation: