Cubs Marketing Research Continues: How About a Mascot at Wrigley Field?
A little over a week ago, I reported that the Chicago Cubs were exploring some significant branding changes for 2014, including new logos, new uniforms, and a JumboTron.
The latter branding change is all about (well, aside from the revenue) the in-game experience, which is a huge part of a team's brand. According to Paul Sullivan, who spoke with team Marketing Director Alison Miller, there are other in-game experience changes being considered … and I reckon you'll have some opinions.
From the Tribune:
The Cubs are teaming up with Northwestern's Kellogg School of Management to conduct a survey involving kids' experiences at Wrigley Field, asking selected fans to help provide the "right opportunities for your kids to connect with the team and grow as the next generation" of fans ….

"We've done a couple things just with trying to get better research on our fans, and just being smarter about what our fans want," Cubs senior marketing director Alison Miller said. "We've done a lot of focus groups in the last couple of months."

Among the kid-friendly topics fans were asked about were batting cages and radar gun zones, kids apps for smartphones and tablets, a kids section, a new Cubs song and "interaction with a mascot."
Feel free to go absolutely nuts about the prospect of a mascot at Wrigley Field. I am actually in favor of *some* (subtle, non-invasive, minor) additions to the in-game experience which are kid-and-family-friendly. Family fan zone type things? Sure. Maybe a kids-focused half-inning with a special song and dance for kids in-between innings? That might be funny and cool (I seriously just came up with that – you're welcome, Cubs). Watching a game at Wrigley Field is a hallowed, beautiful experience … for everyone over six. For the youngest set among us, I'd imagine it could be something of a bore. Spicing it up to keep parents sane isn't the worst thing in the world.
But, there's a limit. And I trust these smart Cubs executives to find that line. A bounding dinosaur or rabble-rousing chicken probably falls on the wrong side of that line. Incessant videos and pump-it-up songs are also on the wrong side of the line. Catering to families with young children is a nice ancillary goal, but it should not be the focus of the in-game experience. The focus at Wrigley Field is, and always should be, the baseball.
That said … if the Cubs do take on a mascot, can they steal DJ Kitty from the Rays?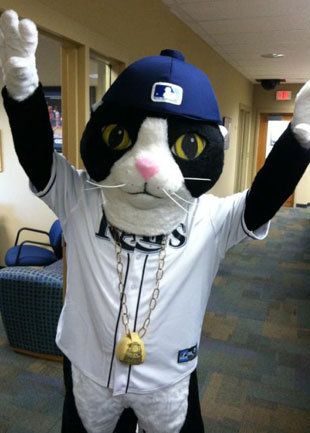 ---
Latest from Bleacher Nation: