Guest Post: The Top Chicago Cubs Surprises and Scandals (Part One)
[Ed. – This is a guest post from BN'er Myles Phelps, a swell guy who writes about the Cubs from time to time (and you can find him on Twitter here). Myles wanted to share this idea with us, and it looked pretty fun/funny to me, so enjoy. Or else.]
Everyone likes a good surprise.  And everyone loves a good scandal.  Lucky for us, the Chicago Cubs have had both over their many victorious years.  I'm here to bring you the best ones – the best 12 to be exact.  Why 12 and not 10 you ask?  The simple answer is that I started with 10 and found two more that I really liked (the complicated answer is the same).
You'll most likely disagree on the order.  You may even disagree with a couple on the list.  But I'll do my best to lay out the reasoning behind each.
Lets go with Part One.
12. The Mike Quade Hiring
You may say, "Come on, Myles.  There's no scandal or surprise in this."  But alas!  You're wrong on both accounts.  Let me explain.
In 2006, Ryne Sandberg was hired by the Cubs to manage the Peoria Chiefs, the Cubs Single-A team.  In the three years that followed, Sandberg was promoted twice within the organization: first to manage in Double-A and then to Triple-A.  His success within the minors made him a likely front-runner to take over Sweet Lou's sweet gig after his retirement in 2010.  But that never happened.  Instead GM Jim Hendry tapped 3rd base coach Mike Quade to take the reigns.  This caused Cubs fans everywhere to exclaim, "Yay!" "What?!"
There are two reasons why this move was awful not only for Sandberg, but Cubs Nation as a whole:  1. Jim Hendry was in a lame duck year.  Anyone who wasn't named Sandberg was going to be fired by the new GM preceding Hendry.  Quade instead was set up for failure from the beginning.  2. Sandberg is no longer with the organization and was a great ambassador for the game and the Cubs organization.  That's not to say that you should always hire former players who are popular.  But if the popular former player is also a good manager, then the choice is clear.
11. Sandberg's Retirement
Let's rewind to the time before Ryno was screwed over.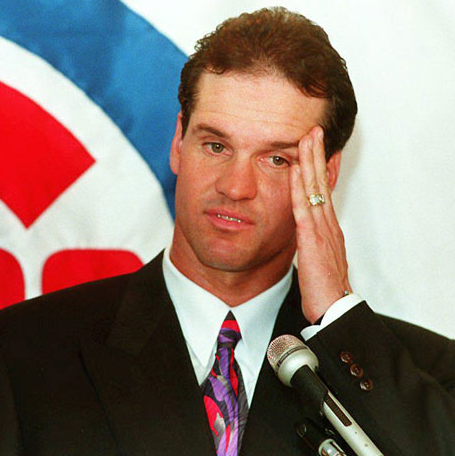 On June 13th, 1994 Ryne Sandberg retired from baseball (the first time).  He was 35.  Two years before his retirement, Sandberg had signed – what was at that time – the largest contract in MLB history.  He was, in essence, The Cubs and as such, his retirement came as a huge surprise to the baseball world.
Sandberg said he had "lost the desire to play,"  which is easy to do when your team doesn't win.  The Cubs had finished the 1993 season 13 games back in the East and were doing no better when Sandberg called it quits.  You can't blame him for wanting to hang it up, but it certainly caught everyone off-guard.
10. Blago Bribe Attempt
Oh man, everyone loves a good bribe attempt.  Especially when an Illinois Governor is involved.  Actually a little known fact: 99% of all bribes in Illinois have involved the Governor's office in some way, according to a statistic I just made up.  In a story first published by Deadspin 2008, we found out that our old buddy, Rod Blagojevich became another one of those fantasy statistics.
But seriously, he tried to solicit a bribe from the Tribune.
Before the Ricketts era, the Cubs were owned by The Tribune Company, better known for their small, mom and pop newspaper called The Chicago Tribune.  In 2008, the Tribune wasn't (and still isn't) doing so hot financially and needed cash.  Their idea was to obtain said cash from the state to assist with the burden.  Blagojevich's response was to tell Tribune owner, Sam Zell, he'd totally give him the money (and would help get Wrigley Field renovations financed).  All he had to do was fire an editor with whom Blagojevich disagreed.
Seems fair, right?  Nothing illegal there.  Looks like Zell got that the last laugh though, as Blago currently has a great view of an 8×8 cell somewhere in Colorado.
9. 1908 Bribe Attempt
Ahh, another bribe story.  These are great, aren't they?  This one, however, happened in one of the most significant years in Cubs history.
In October 1908, the Cubs were facing the New York Giants in a playoff game.  Before the game, the Giants' team physician, Joseph Creamer, allegedly tried to bribe home plate umpire, Bill Klem, with $2,500 to call the game in favor of the Giants.  It didn't work.  Klem refused, and the physician was later banned for life from baseball.  The Cubs went on to win the World Series.  The Giants went on to suck it.
Thanks, Mr. Klem.  Without you I may be rooting for a team with an even longer World Series drought.
8. The Harding Scandal
The 34th President of the United States, Warren G. Harding, was not what you could call a "role model."  He had many mistresses and had at least one illegitimate child.  You may say, "So?  What's this have to do with sports and the Cubs, dummy?"  To that I would tell you to "hold your horses" and that I'm "getting to it."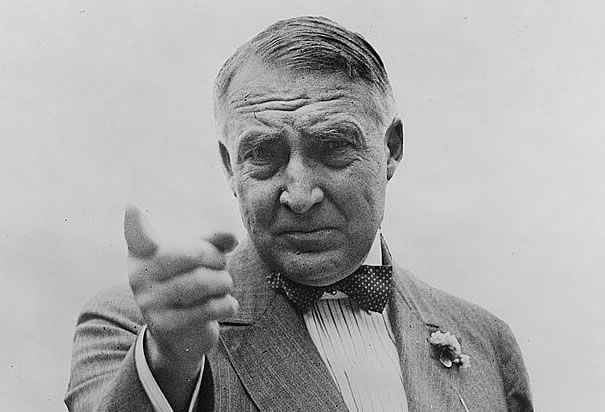 In 1920, Harry Sinclair was a minority Cubs owner and had helped Harding gain support in Chicago.  Harding loved baseball and even invited several of the Cubs' players to the White House to visit once he was elected.  In 1923 it was found that Sinclair had bribed Harding's U.S. Secretary of the Interior, Albert B. Fall, in order to receive a contract to drill for oil in Teapot Dome, Wyoming.  The problem with this was that there was no open bidding and Sinclair stood to make a ton of money because there was no competition.  This is otherwise known as, "The Teapot Dome Scandal."  I just laid some history on you.
Sinclair ended up being fined (not jailed somehow) for his role.  Albert Fall went to jail for a year.  And Harding died in 1923, while still in office, from being a corrupt president or a heart attack or something.
7. Joe Ricketts and President Obama
If you hate history, let's move to a more current event: the presidential election of 2012 (which I guess now is technically history).
For those of you sleeping throughout the past couple of years, the 2012 election was important to both sides of the aisle.  Democrats wanted President Obama, a Democrat, to stay.  Republicans wanted the opposite of that.  You now understand elections.
In May 2012, during the height of the campaign, a report came out from the New York Times that the Ricketts family – specifically Joe Ricketts – were planning on giving a Super PAC with republican ties a large amount of money to help defeat Obama.  When it came to light that some of the tactics of the ad campaign were going to be somewhat controversial, the Romney campaign distanced itself and the plans eventually fell through.
The mandatory question: is it a coincidence that Obama is a Sox fan?
Yes.  Yes, it's pure coincidence.  Sorry, conspiracy theorists!
That's it for Part 1, folks.  Stay tuned next time.  On tap will be GM miscues, sexual advances, and maybe a bribe or two!
---
Latest from Bleacher Nation: